Dan McCabe

Tools of the Trade Commission

Tools of the Trade is a video and photographic series by Dan McCabe that offers a glimpse into the diverse environments where Chevron operates, and the technology and spirit of innovation that propels its day-to-day operations. The commission heroes the scientific and engineering instruments used in natural gas extraction and processing. From the intricate details of the machinery to the expansive architecture of different workspaces, McCabe's work offers an intimate and playful glimpse into the enormity of natural gas operations in Western Australia

The artist combines a keen intelligence with impressive artistic observation, and his still-life photographic images are as beautiful and seductive as they are powerful.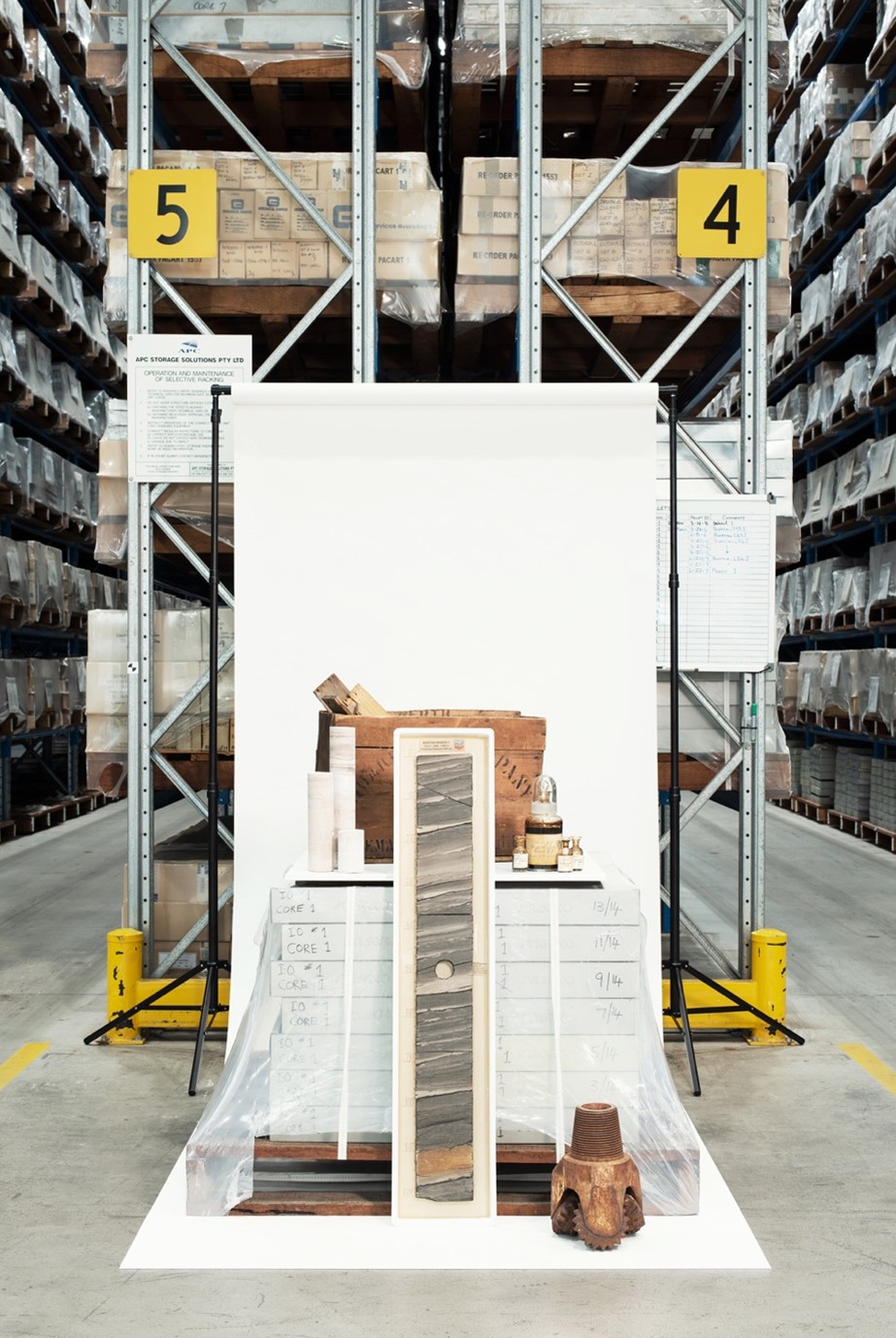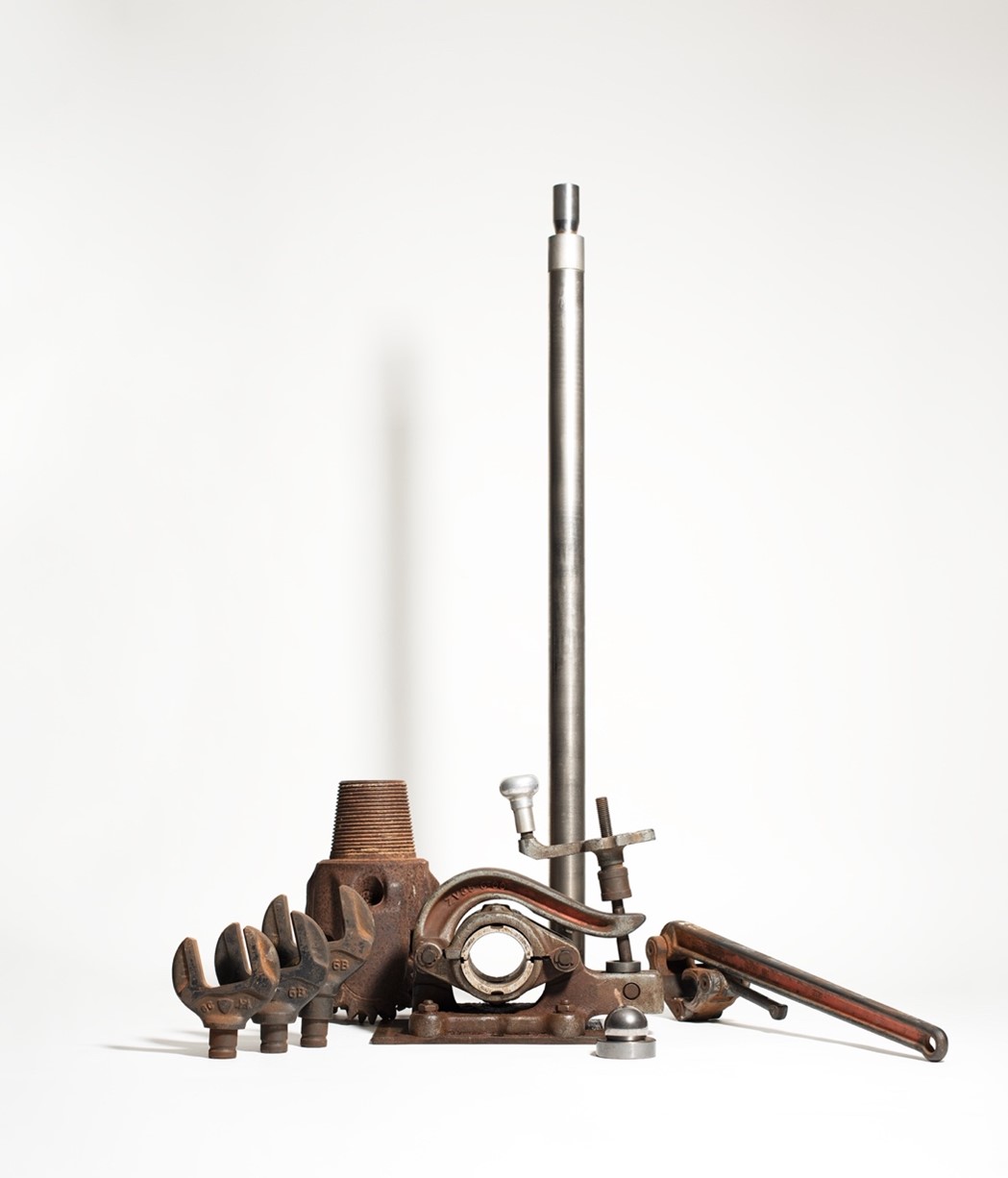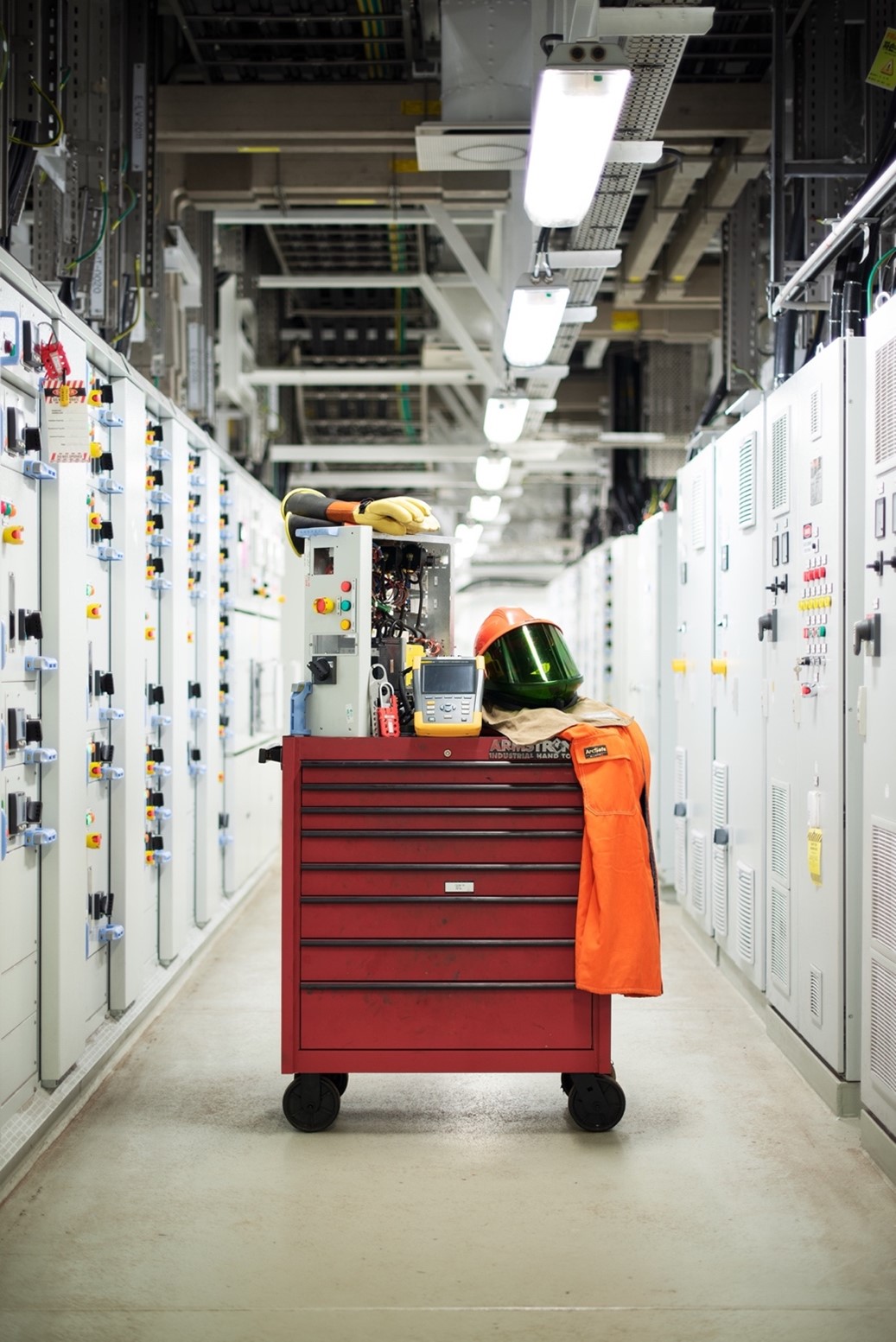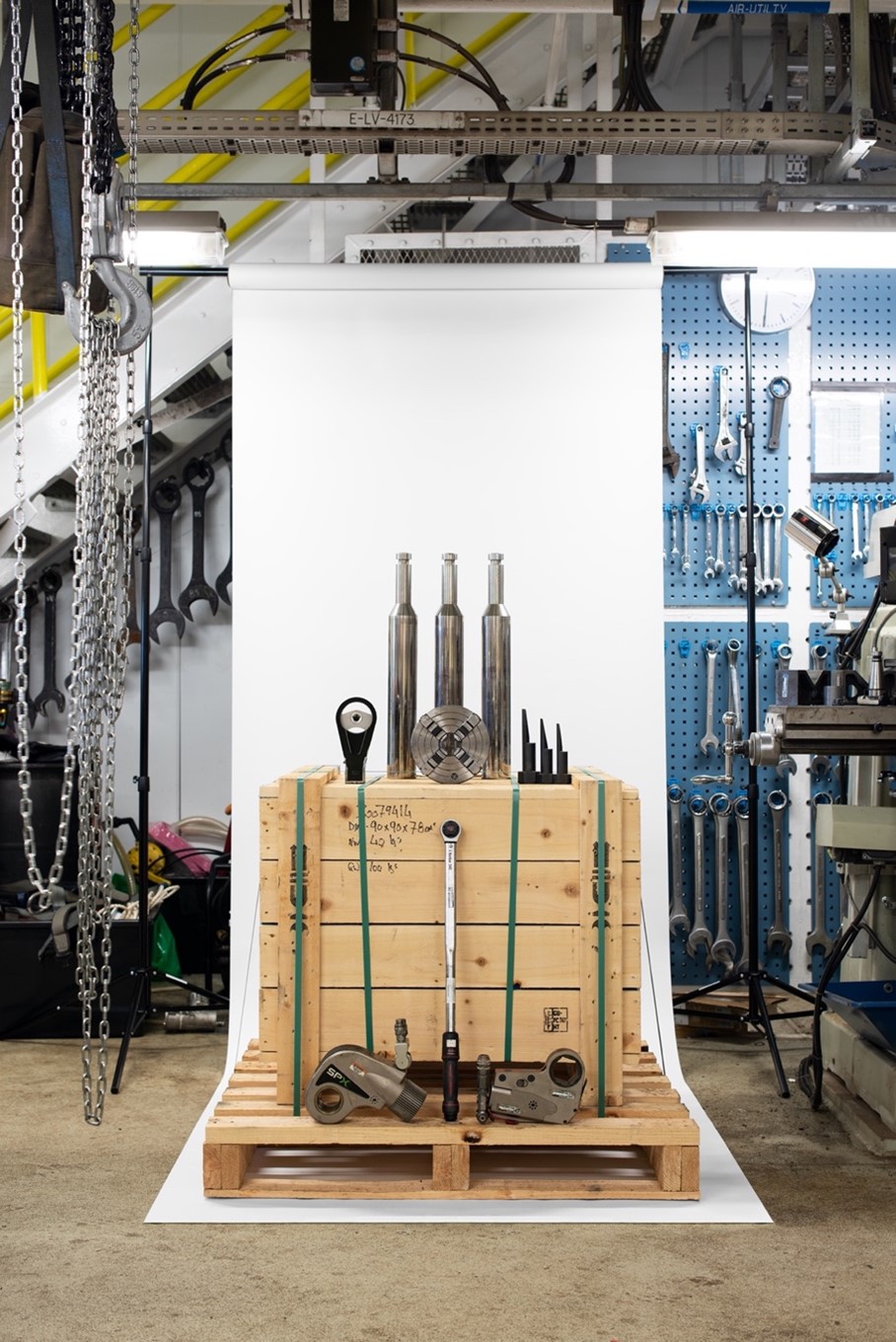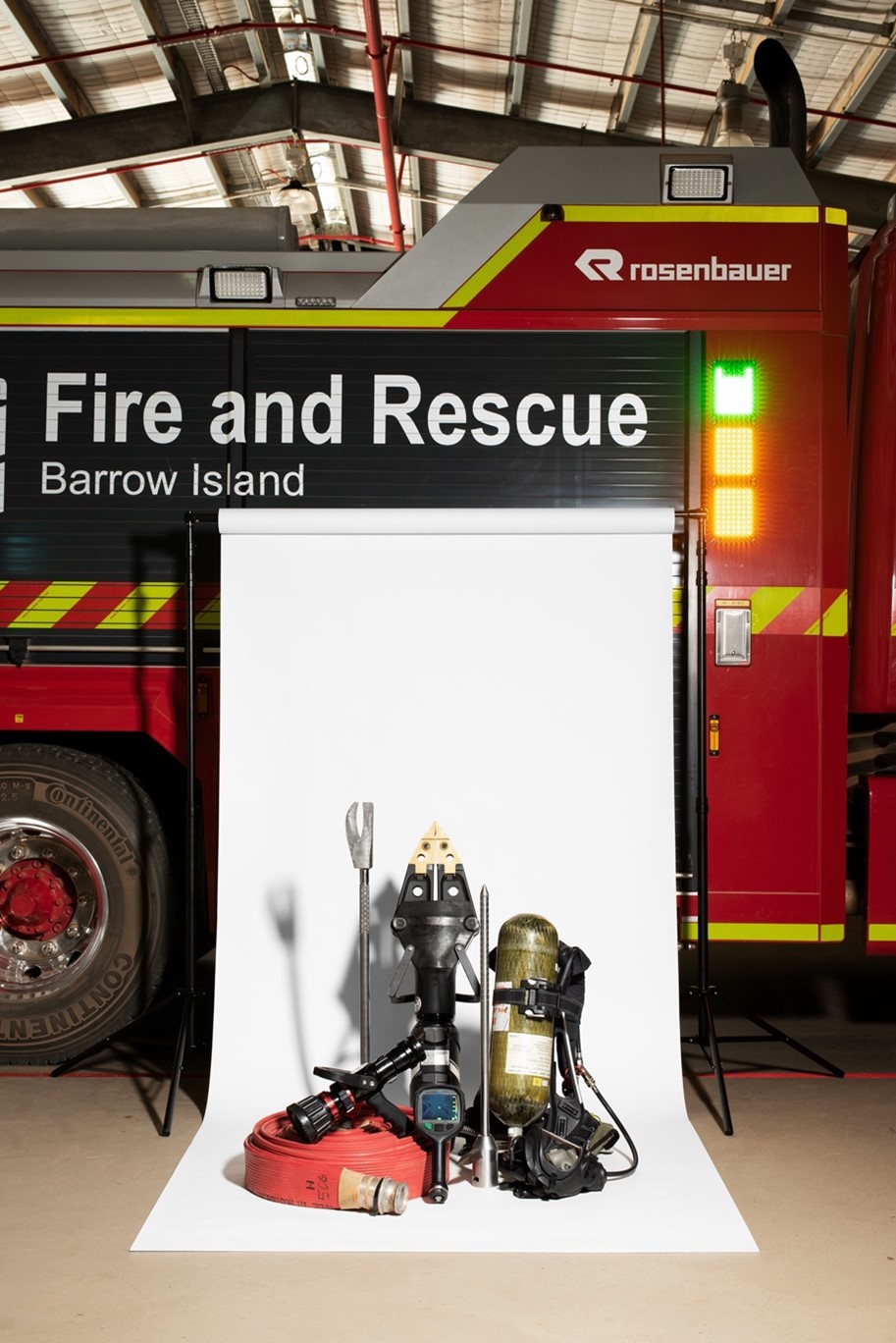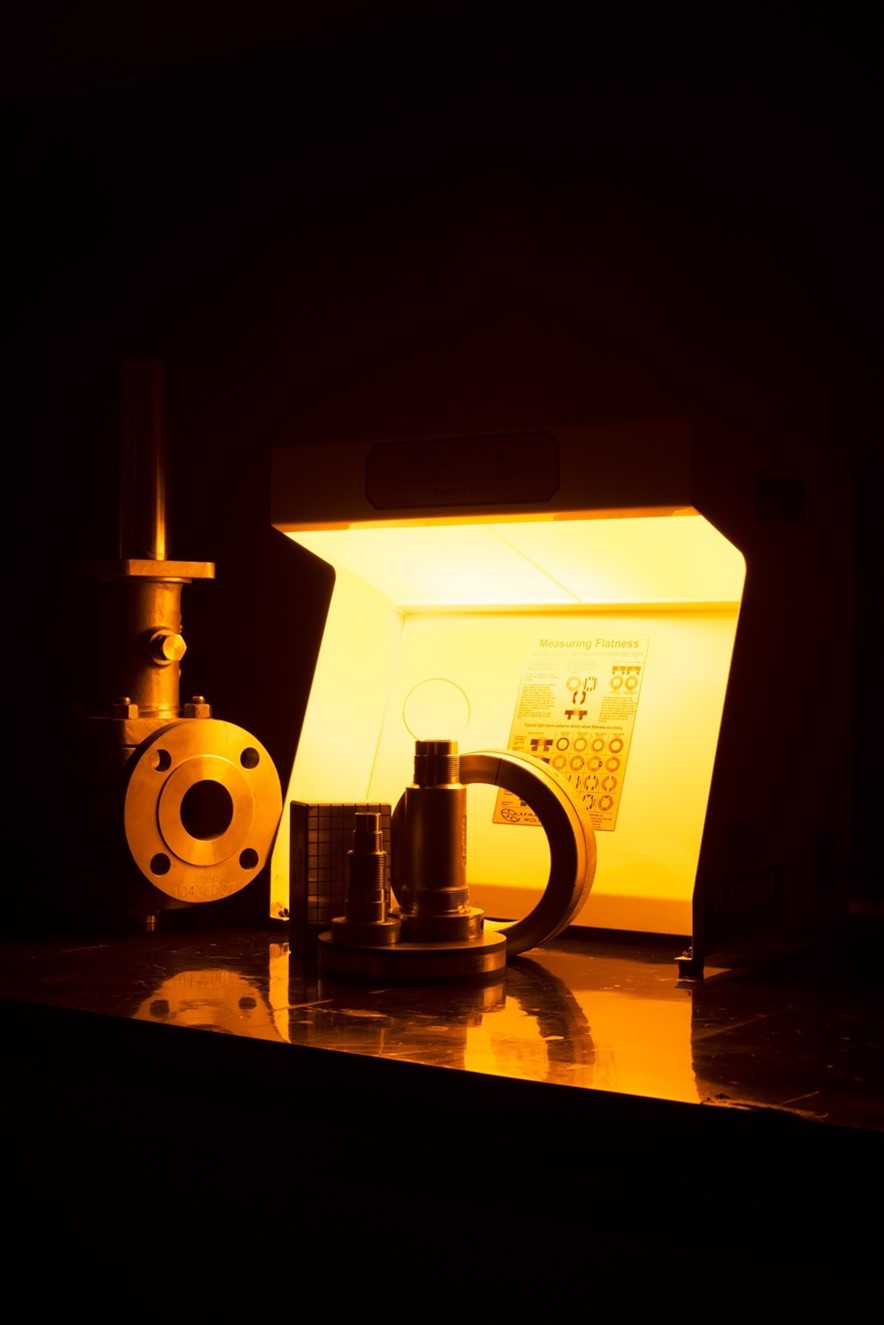 about the artwork

Tools of the Trade (4-channel video)
Tools of the Trade is a 4-channel video artwork by Dan McCabe, part of a larger commission by Chevron, that provides a captivating view of the natural gas extraction process seen through McCabe's eyes, guiding the viewer through the journey from exploration to export — from a core storage facility in Perth to the Wheatstone and Gorgon projects in Onslow and Barrow Island.
Grand structures sit within an equally majestic landscape: bleached skies, deep oceans, red dirt and steel in the harsh Pilbara light. Workspaces, machinery and operations are rendered abstract; spliced together to create intimate and playful compositions of shape, line and colour. Personnel move through peculiar spaces, some comprehensible, some alien. Hands work with machinery, tools and technology — the enormity of industry distilled in small and simple movements.
about the artwork

Tools of the Trade – Sites
Tools of the Trade – Sites is a series of photographs taken by Dan McCabe at Chevron's LNG and oil operations sites in Western Australia, and a selection of film stills from his video work bearing the same title.
Between 2021 and 2022, McCabe spent time at the Wheatstone Plant, Wheatstone Platform and Barrow Island, meeting the staff and developing a fascination for the mining process. The series forms somewhat of a puzzle, with McCabe piecing together section by section, trying to understand how it all fits together, from the intricate details of the machinery and tools to the expansive, complex architecture of different sites and workspaces. Together with the video stills, which provide a different yet complementary perspective, the two bodies of work offer an intimate glimpse into Chevron's large-scale operations in Western Australia and the interconnected industries, tasks and professionals that underpin it.
about the artwork

Tools of the Basin Trade
Tools of the Basin Trade is a series of photographs of still-life compositions constructed by Dan McCabe in the workshops and workspaces of Chevron's operations, forming part of a larger art project commissioned by Chevron. Tools, equipment, materials and machinery have been assembled in collaboration with the people that work at these sites to capture the essence of day-to-day operations and multivariate processes and people who are essential to Chevron's work.
According to McCabe: "After learning about what happens in a particular workplace as well as the unique tools or favourite instruments of the staff that work there, I assembled these fascinating shapes and surfaces, propped up tools both familiar and alien, and created something on-site at that very moment."
In Tools of the Basin Trade, the tremendous scope of LNG and oil operations in Western Australia is brought down to a very human scale, capturing the various tasks that are carried out by the workers with the tools of their trade.
artist statements
EXPLORATION
Perth Core Library, Perth
"When an area has been identified for exploration, core samples are taken in the future production zone to get an accurate understanding of what is happening underground in that area. From these cores, geologists extract the information they need to determine if and where an extraction point is established, and to help understand the exact age, permeability, porosity and geological connectivity of the reservoir. Eventually, all the cylindrical cores end up in trays and are sent to this storage facility, which contains all the core samples extracted in Western Australia.
In this work, we can see a recent core set in resin, a pallet of core trays, an old drilling bit, and a timber box where cores from the mid-20th century were originally transported and stored. Also seen is the first oil sample taken in 1953 from Rough Ranges in the Exmouth Gulf, and in 1964 from Barrow Island. This composition is a story of 70 years of oil and gas exploration in Western Australia and Chevron's part in it."
EXTRACTION
WA Oil Workshop, Barrow Island
"On Barrow Island, there are currently over 400 active Lufkin pumps in operation out of approximately 900 that have been installed since extraction began. (Pumps on most disused wells have been dismantled and decommissioned.) Since their installation in the 1960s, the tools and technology used to operate and service the pumps have essentially stayed the same. The Lufkin pump draws the oil up from deep underground and slowly brings it to the surface where it is processed, stored and exported. This high-quality, light oil is used to make jet fuel, diesel or kerosene. To maintain the pipes and pumps, the staff more or less just need a series of spanners, clamps and gauges."
EXTRACTION
Substation, Wheatstone Platform
"The natural gas that comes out of the Carnarvon Basin destined for the Wheatstone gas plant first passes through the Wheatstone Platform where it is partially processed before heading to the mainland. To power and control the extraction and processing of gas, the platform has its own electrical substation — a mini power station in the middle of the ocean.
Here, rows of switches, gauges and computers maintain and monitor power levels for the equipment that process and sends the natural gas some 225km to the coast via a trunk line. As these machines operate at high levels of power and pressure, the work of monitoring requires vital usage of safety gear."
EXTRACTION
General Workshop, Wheatstone Platform
"In the general workshop on the platform, the majority of work undertaken is to maintain and service operations. Serviced each week via supply ship, the store above the workshop keeps a stock of fixings and consumables, and outside on deck, there are wooden crates full of parts yet to be fitted or sent back to the mainland — where most of the major maintenance is completed. The alignment tools, torque tools, lathe tools and materials in this artwork are key aspects of the swap-in, swap-out operations on-site."
PROCESSING
Turbine Workshop, Wheatstone Plant
"The processing of natural gas from when it is extracted out of the ground to its liquid form for export on both Wheatstone Plant and Barrow Island is powered by gas turbines. The smaller turbines used in the cascade process at Wheatstone are similar to an aeroplane jet engine. Given this similarity, aviation engineers are employed to service and maintain them.
The micron-level finesse and perfection, and the use of highly specialised tools, materials and coatings in this workshop, are mind-blowing. In the artwork, there are two cylindrical tools used to unlock elements and dismantle these huge turbine engines, as well as some of the jets and blades from the disassembled engine you see behind the white backdrop."
PROCESSING
Turbine Workshop, Wheatstone Plant
"In this artwork, there are some of the many hand tools, pumps, gauges, surgical-like inspection tools, heat sensors and large quantities of customised pelican cases that are found in the Turbine Workshop. These hard cases have been set up to go anywhere in order to service nearly every task relating to the gas turbines that power operations at Wheatstone Plant and Wheatstone Platform — an engineer can be dropped on-site and fix the problem within two hours. For me, this workspace is the pinnacle of excellence and efficiency with regards to tools, not surprisingly producing the "best-running turbines in the world" according to the engineers on-site."
MONITORING
Non-Intrusive Inspection Workshop, Barrow Island
"Regularly monitoring and inspecting the plant infrastructure, equipment and machinery is key to efficient and reliable operations on-site. To do this, the non-intrusive inspection team adopt technology from many different industries to improve safety and minimise disruption. In the workshop, there is a wide selection of robots with cameras, lights and surgical-like tools that go down pipes and crawl up walls, like the caged drones that can fly into storage tanks or up to the top of exhaust pipes without personnel having to put on protective suits or rigging gear. And my personal favourite: an x-ray imaging equipment, which one we might expect to see in hospital or surgery, which the engineers use to determine with incredible accuracy the inner workings of pipes or valves."
MONITORING & EXPORT
Laboratory, Wheatstone Plant
"Throughout the processing of natural gas to LNG, samples are taken from various parts of the plant and are tested for quality, contaminants and inerts (gases that don't burn). In laboratories like the one on Wheatstone Plant, scientists and lab technicians determine if there is any water or mercury, how much butane or propane there is in the mix, and finally the purity of the processed liquified gas. When a shipload of LNG is exported via the jetty or uncooled gas is exported via the domestic gas pipeline, sample cylinders are taken during export and stored for quality assurance and testing. The laboratory is filled with scientific equipment, analytical machines and computers as well as dozens of export cylinders stored in special cases."
MAINTENANCE
General Workshop, Barrow Island
"On the site, pipes, valves and machinery operate at incredibly high pressures. Some of the pipes used on-site can withstand up to 10,000 psi of pressure during operations (compared to a car tyre's pressure which is about 35 psi or a bicycle tyre which is maybe 80 — 100 psi). Maintaining the seal and precision of adjoining equipment and surfaces is incredibly important. Pictured here is a lapping inspection tool, which can measure the "flatness" of a surface. Under this yellow light, special glass discs reveal a pattern on the surface which indicates whether it is concave or convex, if it is uneven or level, as well as the exactness of that particular reading. It measures the flatness to within one-millionth of an inch — so flat that two surfaces start to stick together."
QUARANTINE
Harry Butler Science Centre, Barrow Island
"Quarantine is an important part of Chevron's operations on Barrow Island and their responsibility of maintaining this unique environment. On the Island, the Harry Butler Science Centre is the HQ of monitoring and maintaining what animals and plants are on the island. To do that, they use a range of peculiar contraptions out in the field. In this artwork, we can see a device that lures animals into a cage, reads their paw prints and notifies staff on what it finds; a listening device that detects the calls of different creatures; and a UV light that helps sample what insects are around camp."
QUARANTINE & LOGISTICS
Qube Quarantine Warehouse, Perth
"Before anything reaches Barrow Island — from cutlery used in the mess to the most complex tech used in the plant — the inspection team in Perth receives all packages. They unpack, inspect and treat each individual item before repacking the items, loading them onto special shipping containers for transport to the island. Most of the tools used in quarantine inspection are quite simple and familiar like a torch, mirror, or set of tweezers. The staff employ great ingenuity to achieve the level of processing required for Barrow Island.
In this artwork, you can see a rectangular frame wrapped in copper tape. A set of these frames are put around the legs of a crate which could attract or harbour slugs or snails. When snails come into contact with copper, they experience a harmless but unpleasant electric shock. Left overnight, any slugs that venture out of the shipment are contained and don't spread to other parts of the facility or onto quarantined containers."
LOGISTICS
Fire & Rescue Depot, Barrow Island
"Separated from the mainland, the fire and rescue team are part of the emergency response on Barrow Island. With its own airport, multiple vehicles driving around, lightning strikes, and large-scale processing operations on Barrow Island, the team must be ready to respond to emergency incidents in an instant. Quite a few of the tools depicted in the artwork will be familiar, including the jaws of life, oxygen mask and tank, hose and gun, heat sensor and various extraction tools. Thankfully most of these don't get used that often, although they play an incredibly important safeguard role in this remote part of the world."
about the artist
Dan McCabe
Born Meeanjin | Brisbane, Queensland
Lives and works Walyalup | Fremantle

Dan McCabe's practice considers the complexities of globalisation and its impact on people and the natural environment. In his work, concept drives the choice of materials and methods and is unique to each series or project. Past projects have included sculptural installations, video, photography and wall-based compositions. He has exhibited nationally and internationally and taken part in artist residencies in Finland and India.