Sandra Black and Victor France

Corals from Barrow Island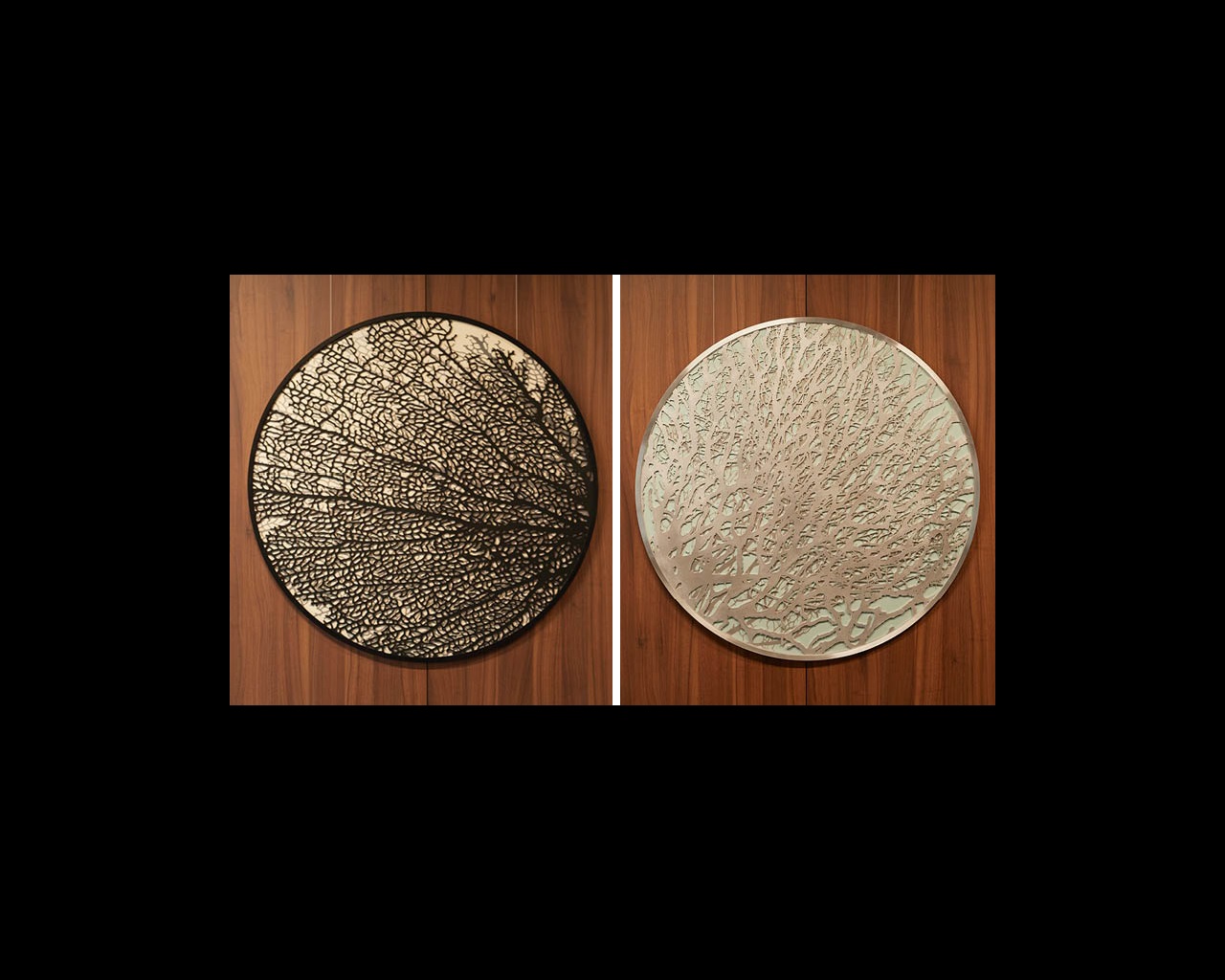 about the artworks
Chevron commissioned two very different artists to reimagine their primary practices and produce a collaborative, complementary work. Based on the coral reefs that surround Barrow Island, these beautiful laser-cut layered discs present the exceptional skills of each artist in a new art form.
The inspiration for this commission was the delicate sublime pierced ceramic vessels that established Sandra Black as a celebrated internationally acclaimed artist. Echoing the intricate coral compositional forms of the reefs, her ceramics offered the perfect foundation to extend her practice into a new art form. A revelation about the artist was her original training and love of marine biology.
Working closely with Victor France who provided his technical and photographic expertise, a shared collaboration then offered each artist their own 'canvas' translating their individual designs into unique artworks.
A visit by the artists to the Western Australian Museum Boola Bardip provided additional research material and a greater understanding into the world of coral reefs. Viewing specimens closely and the museum's generosity in allowing photography were invaluable tools in producing these works. Each disc evokes the shimmer of the water's surface and the richness of what lies below.
Fabricated by Artcom Fabrication.
artist statements
"I worked with the idea of shadows cast by the drifting of these fan corals over the seabed when cast loose from their rocky moorings by the tropical cyclones that affect these northern regions. Many times, during my walks along my local Fremantle South beach after winter storms, I have come across various sponges' seaweeds and small coral samples washed up. It was after a summer swim on a particularly still day that I was seeing the shadows cast by drifting seaweeds on the white sands in the water beneath me which gave me my final inspiration for the designs and colours. As an artist, I have always worked largely with black and white forms in my pierced and carved porcelain works, so I felt that the discs would be more dramatic using the black for the coral patterning and the soft creamy white background represented the sands of Barrow Island." Sandra Black
"It has been my great privilege to have drifted over a coral reef of great beauty. One can only be struck by the intense aggregation of various life forms, living and dying in this complex oasis. In the distance the edge of the reef, and beyond, nothing but the deep blue stretching outward. It is this fluxing and movement of life on the reef which is represented in these artworks: layers of corals overlaid in etched aluminium and set on a pale powder coating. The finished layers of ground metal produce an ambiguous visual distortion, which alters as one moves around the work. It is this visual complexity and fluidity which is brought to the making and given to the viewer to enter. Where the corals lie." Victor France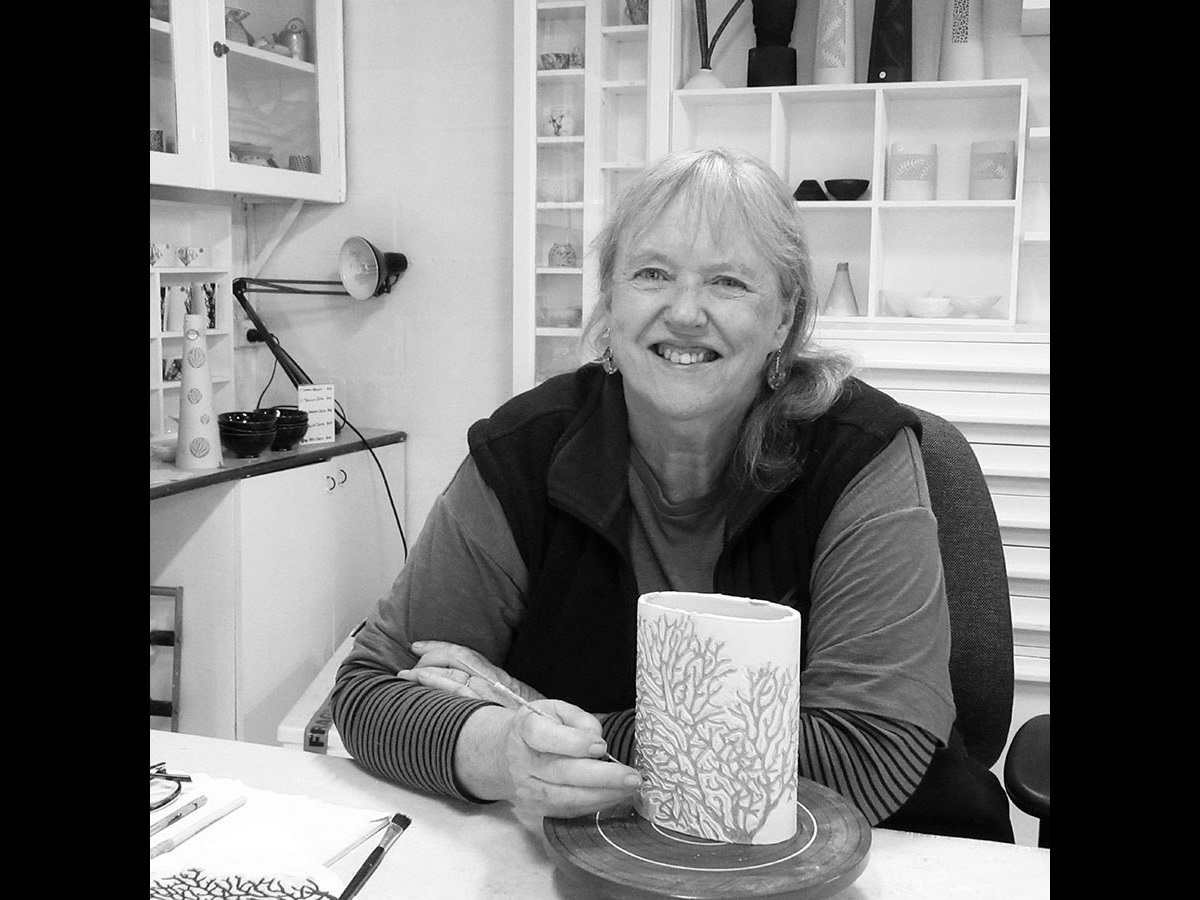 about the artist
Sandra Black
Born Wy Yung | Bairnsdale, Victoria
Lives and works Walyalup | Fremantle
Sandra Black has been a full-time ceramic artist since 1975. Her work is primarily inspired by natural forms — from native plants to the beautiful corals of tropical waters — and the impact of industrial activities on the environment. Her delicate ceramics have been shown and collected in Australia, New Zealand, Canada, USA, India, UK and China. She has also tutored and lectured in ceramics in various institutions and is currently teaching at Fremantle Arts Centre.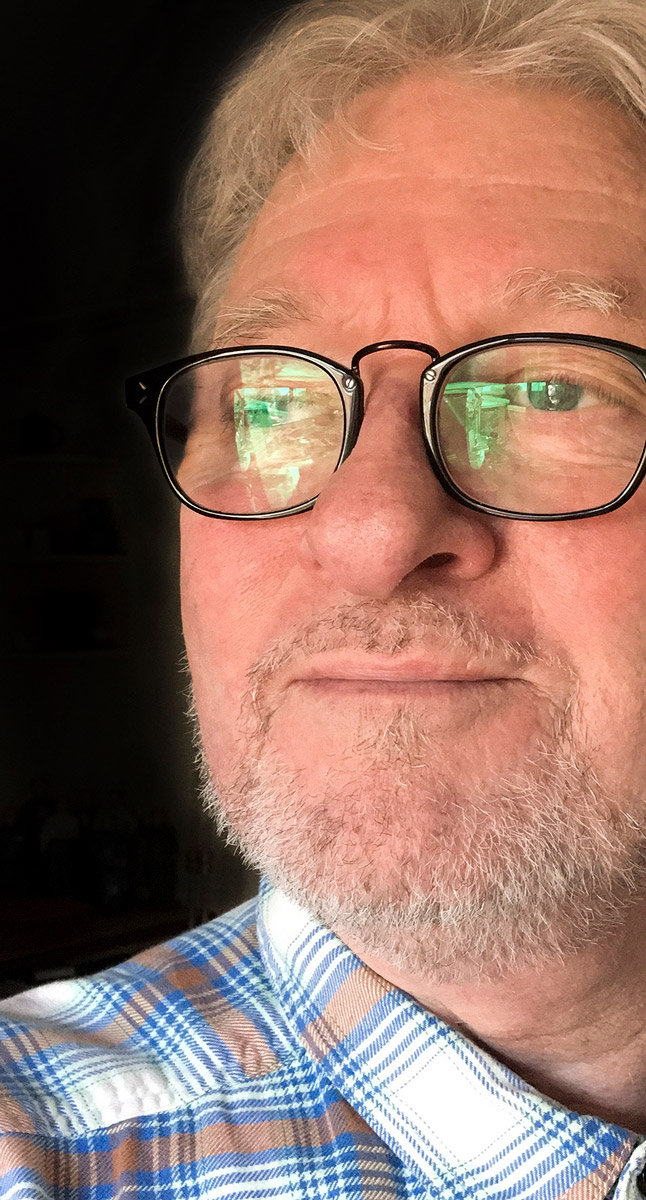 about the artist
Victor France
Born Christchurch, New Zealand
Lives and works Boorloo | Perth
Victor France's photographic practice of 40 years has been one of observation through the lens. His subject matter has often involved both the social milieu in which he has found himself and a deep interest in the landscape. Both subjects have been interpreted against a backdrop of a lifelong interest in Eastern philosophies. The link between image-making and the world of phenomena, and the influence of light, shape, colour, and their resultant effect on form as applied through France's perception of the landscape, has produced a rich body of work that invites exploration and introspection.