speech

creating an interconnected gas gathering system for western australia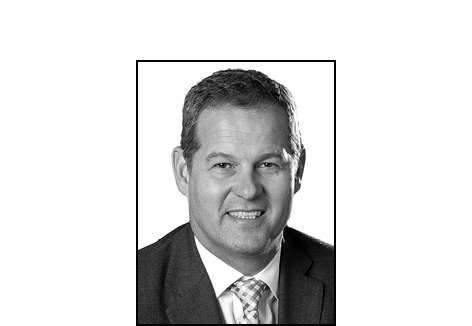 Nigel Hearne
Managing Director
Chevron Australia
Tuesday 15 May 2018
APPEA Conference: Shaping our shared energy advantage
Good morning distinguished guests, ladies and gentlemen.
I'd like to take this opportunity to acknowledge the traditional custodians of the lands we meet on today, the Kaurna people and pay my respects to their elders, past and present.
It is a pleasure to be here in Adelaide for this year's APPEA Conference.
I would like to thank the Chair of this morning's session, Wendy King, for her kind introduction.

Underpinned by growing demand for natural gas across the Asia Pacific, Australia has been transformed into a global natural gas leader.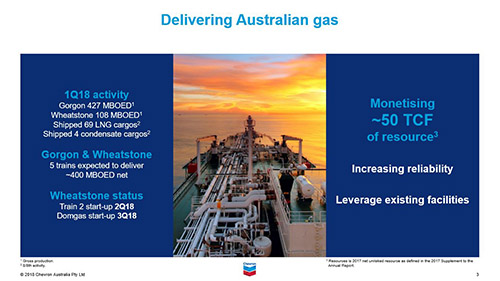 Chevron is proud to be part of this amazing development story.
Having explored for, developed and produced energy in Western Australia for more than 60 years, we're about to write the latest chapter in our story… as completion nears on the second train of our Wheatstone Project near Onslow.
Along with the fully operating Gorgon natural gas plant, Chevron will soon have transformed from project builder to world-class operator and leading domestic gas supplier to Western Australia.
And we've just announced, along with our joint venture participants, a decision to proceed with Gorgon Stage Two – a planned expansion of Gorgon's subsea gas gathering network which will ensure long term supply for the gas plant.
Let me show you a short video which reflects on the significance of where Australia's vision has got us to today.
Central to the success of what you've just watched is one of the jewels in Australia's energy crown – the Carnarvon Basin, located in Western Australia's northwest.
As Australia's premier hydrocarbon basin, its prospectivity was recognised more than 50 years ago.
Today, the basin is home to a significant network of oil and gas infrastructure – a generator of billions of dollars in revenue and creator of thousands of jobs.
Those founders and explorers of the Carnarvon and the North-West Shelf had a vision and a determination.
And today, the Basin continues to present outstanding opportunities.
But when we talk about the next phase of opportunities in the Carnarvon Basin, what is our industry's vision?
Are we developing current and future opportunities in the best way possible? And have we learned the lessons from our recent past?
I believe the industry's key challenges include:
• Ensuring the soon-to-be 11 LNG trains currently in production run at a 100 percent capacity over the next 30-plus years
• Delivering sufficient supplies of natural gas to the domestic gas market; and
• Improving our international competitiveness to attract ongoing investment

Meeting these challenges will require a significant shift in how we go about our business.
I believe it's time for us to reinvoke the vision and big thinking of the North-West Shelf pioneers and take a shared approach to the development of the basin.
With a few exceptions, historically we've seen 'go it alone' and point-to-point development strategies in the basin. They have suited individual players and the record $200 billion investment spend by the industry.
Going forward, there is a better way.
Greater industry collaboration, supported by governments, will most efficiently unlock the resources in the ground and extend the benefits.

It will ensure the most economically efficient approach to the future development of Australia's offshore resources.

Collaboration will maximise the potential of Australia's abundant resources. As we develop more fields and bring them to shore to fill available LNG processing capacity, we'll get more LNG to market and with it greater volumes of domestic gas for Western Australia.

Collaboration will drive efficiencies, minimise duplication of infrastructure and boost Australian government revenue.
Think about what is possible if we were to work together to create a truly interconnected gas gathering system which would ensure no resources are left in the ground or value on the table.

Let me introduce a concept: A way to think about collaboration in the basin in practical terms.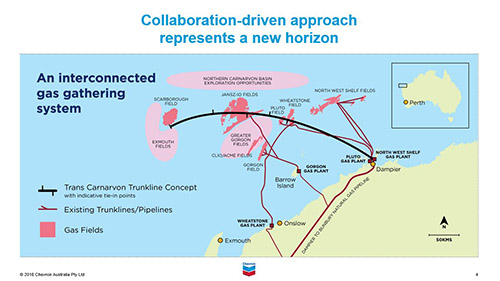 As shown on the slide: Imagine a Trans Carnarvon Basin Trunkline – or TCT - as a multi-user, open access offshore pipeline, connecting shared offshore infrastructure to create a truly 'interconnected basin'.

This could link remote accumulations such as Scarborough, Thebe and the Exmouth fields, to existing gas facilities such as the North-West Shelf, Pluto and Wheatstone.

Something like this would enable gas from offshore fields to flow to where it is needed, and when it is needed via an onshore interconnector across the Burrup Peninsula.

Combining this with existing pipelines to shore that interconnect with the Dampier Bunbury Natural Gas Pipeline, the opportunities for system optimisation and value creation are mind boggling.
A concept such as the TCT has numerous potential benefits when executed with collaboration in mind:
• It improves the development likelihood of several hydrocarbon fields, including remote, deep and current uneconomic fields.
• We minimise duplication of pipeline infrastructure, and keep our established gas plants full, creating an interconnected and efficient transportation system
• We deliver greater domestic gas volumes to shore enabled by increased LNG volumes;
• We create the best possible opportunities for local industry and WA jobs; and
• Reduce the industry's environmental footprint by having a smaller number of pipelines.
An interconnected basin will provide the most efficient and economic solution to develop the gas of the future.
Ideally, an interconnected gas gathering system would be 'rightsized' – offering the optimal capacity that maximises value for all users.
If we get it right, it optimises development of potentially stranded resources and has superior economics over individual or 'point-to-point' concepts, keeping LNG and domestic gas plants full for longer and helping secure Australia's energy future.
Local suppliers and Australian jobs would be major beneficiaries.
A TCT will further contribute towards Perth's ever-growing reputation as a world-class LNG services hub.
This presents a real opportunity to build the capability and capacity of local companies to supply, service and operate an expanded offshore and onshore gas industry.
By creating multi-user shared infrastructure, a TCT creates a more 'interconnected basin' ensuring resources are brought on stream to fill available LNG and domestic gas processing capacity.
Multiple producers get their gas to market efficiently.
Think of it as replicating the onshore success of the Dampier to Bunbury Natural Gas Pipeline infrastructure, by doubling it offshore and creating a system that is potentially much bigger than the sum of its two parts.
And the timing is right for a truly interconnected gas gathering system to enable the next wave of investment.
Global LNG demand projections and supply forecasts show strong gas demand out to 2030 and beyond, given a growing appetite for cleaner-burning natural gas.

One of the major opportunities of a concept like this is the ability to bring more domestic gas to the WA market, as a result of developing hydrocarbon fields that might otherwise languish.
WA domgas demand out to 2037 shows a supply opportunity created in the longer term.
Connected infrastructure could facilitate the delivery of the domgas volumes necessary to meet that demand.
Creating value through sharing existing infrastructure, filling existing processing capacity and building new, right-sized, multi-user infrastructure delivers the efficiencies and significant economies of scale necessary to ensure energy supplies for decades to come.
In our view, a collaboration-driven approach represents a new horizon for an interconnected Carnarvon Basin, underpinned by collaboration.
While infrastructure collaboration is not common in Australia, it's an established practise elsewhere:
1. The North Sea, for example, is a network of pipelines and hubs. There, Chevron leverages 3rd party infrastructure through its partnership in the critical 'Forties' pipeline. This pipeline system brings onshore much of our operated and non-operated oil and gas.

2. In Canada, the Basin Wide Transportation and Transshipment System provide the structure for cooperation among the nine oil producers in Atlantic Canada. The nine producers share costs and access to tanker and terminal capacity.

3. Thirdly, the US shale gas 'revolution', which I witnessed firsthand in Pennsylvania's Appalachian basin. There, the resource was developed safely and responsibly through collaboration with companies, communities and governments, working together to deliver energy security for the region.

There are many other examples where industry collaborates in non-competitive areas, such as logistics, to deliver shared benefits and lower costs.
We can do the same right here…
Let's not forget, achieving an interconnected basin will still rely on attracting the necessary investment to commercialise these remote and technically challenging fields.
It will require inspired industry leadership.
It will need political and fiscal conditions that support investment for these long-term and capital-intensive projects.
It will require government and regulatory support.
While our industry has faced these types of challenges before, and can again, adapting to new and greater barriers will mean doing our business in a different way.
It will mean putting aside individual interests and collaborating to create additional value across a basin-wide system – to make the pie bigger, not just take a bigger slice of a smaller pie.
We have a once-in-a-generation strategic opportunity to most effectively open up new gas resources and deliver energy security and greater economic benefits.
By collaborating, we will drive efficiencies, optimise the resource, bring valuable domestic gas to market and put downward pressure on those domestic gas prices.
This next development phase of our abundant offshore resources gives us a valuable new opportunity.
The interconnected basin vision, which involves a gas gathering system underpinned by shared infrastructure with system-wide optimisation, is the best and most responsible way of developing our resources.
It's an obvious choice.
Visionaries have got Australia to this point, let's shape our shared energy advantage by embracing a new vision for our future.
Thank you.