speech

The Resources Revolution
Nigel Hearne

Managing Director
Chevron Australia Pty Ltd
CEDA Keynote Speech
21 March 2017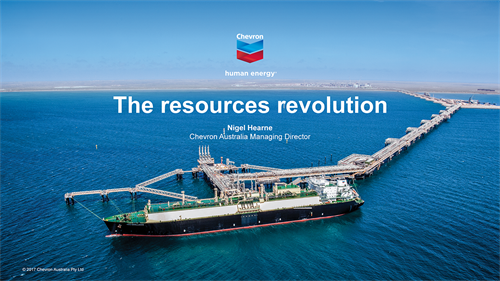 Good morning,
Before I start can I acknowledge the Whad-juk people... on whose land we are meeting today, and pay my respects to their elders, past and present.
Thank you Paula for that very kind introduction.
As was mentioned, my name is Nigel Hearne and I'm very pleased to be with you this morning.
Thank you to CEDA for the invitation to be here and thank you all for joining us today.
Hopefully by the end of this speech you will be as excited as I am to be living and working in Perth with the amazing opportunities ahead for this great State. Life here is anything but boring.
I'm pleased to have the opportunity to talk about the 'resources revolution'…
The incredible achievements so far, the opportunity ahead of us, some of the challenges we face… and the amazing potential as we look to the future.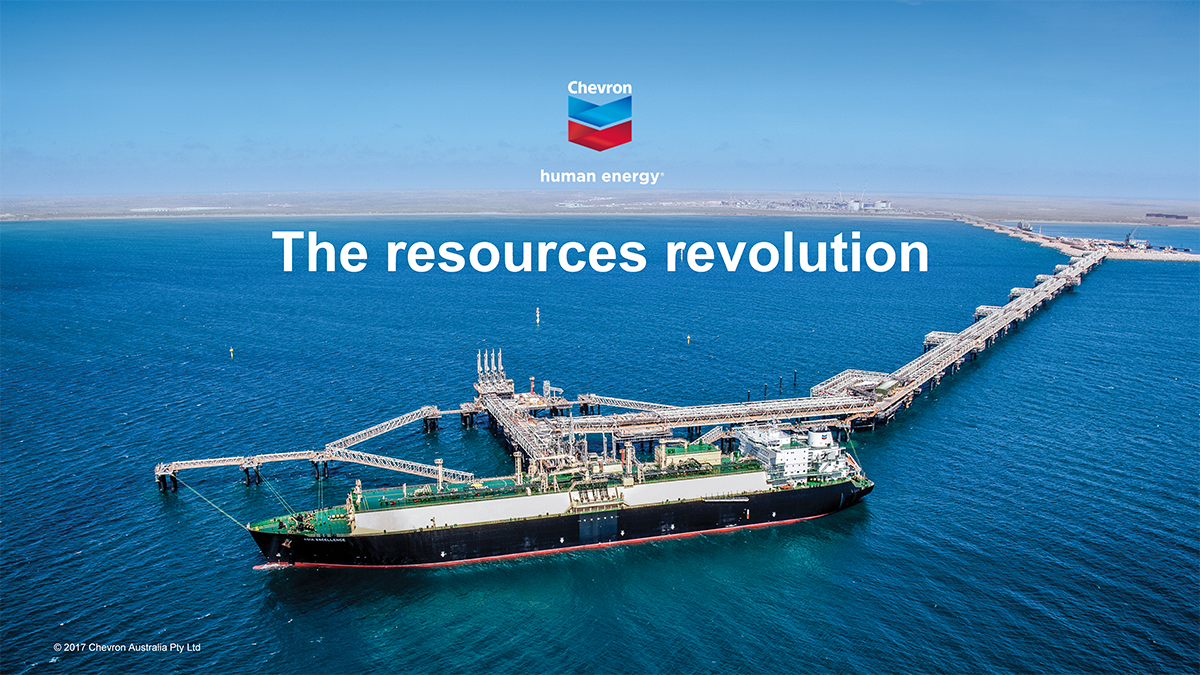 So on the subject of amazing, it's my pleasure to announce that the Chevron-led Gorgon Project is in the process of starting up its third and final train.
This comes seven years after the Gorgon joint venture participants made a final investment decision.
Train 3 start-up is a major milestone for our partners, our workforce, customers, government, and all those associated with the project over its lifetime.
Once Train 3 is up and running… our focus will be on keeping those trains full and reliable for the long haul.
It's now 12-months since we farewelled Gorgon's first LNG cargo… as shown on the photo behind.
Gorgon is one of the largest LNG projects in the world.
I'm pleased to say this month we produced our 50th Gorgon LNG cargo since production started.
To put this into perspective, a single Gorgon LNG cargo could power Japan for about 9 hours!
If you take the 50 cargos I just mentioned, that would be enough LNG to power Japan for around 19 days!
If we take Chevron's equity share of Gorgon LNG alone, since first production started a year ago:
We've produced 27 LNG cargos for Chevron-only customers;
We've delivered to four long-term customers; and
We've powered five different Asian countries.
The majority of Chevron's Gorgon LNG is going to customers in Japan… more than 80 percent in fact.
Importantly, Japanese utility companies have helped establish Western Australia's LNG industry, as foundation investors and customers.
We are privileged to have Japanese companies involved in the Gorgon Project and I would like to recognise Osaka Gas, Tokyo Gas and JERA.
While I have talked a lot about LNG, we've also been delivering domestic gas to our customers in Western Australia since December last year.
We are proud to say Gorgon will be literally touching the lives of most Western Australians.
At full capacity, Gorgon domestic gas can generate enough electricity to supply 2.5 million households.
That's equivalent to not only all the homes in Perth, but also Melbourne.
That's a lot of gas for manufacturing, cooking, heating and for lighting the barbie.
Gorgon has also set new benchmarks in technology and innovation.
It will incorporate the world's largest commercial-scale carbon dioxide injection project, aimed at reducing overall greenhouse gas emissions by 40 percent.
At Gorgon's sister Project, Wheatstone - located near Onslow - Train 1 construction is nearing completion and we expect start-up around mid-year.
We're very excited about the start of production being in sight and so are our joint venture partners.
Once Wheatstone is online, WA will be home to 11 LNG trains, with capacity of around 46 million tonnes of natural gas per annum.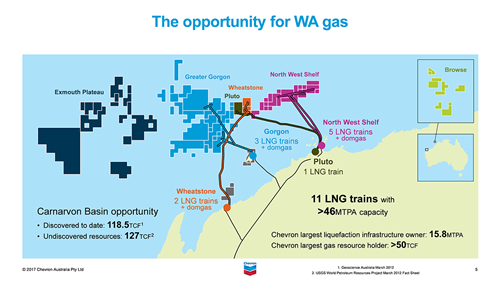 The scale of this achievement is large even by world standards… a national success story for which the industry and the Australian nation should be rightly proud.
The network of world-class infrastructure, along with the huge natural gas resource base you can see behind me, is the envy of any petroleum hub the world over.
With Gorgon and Wheatstone nearing completion, Chevron will be Australia's largest natural gas resource holder with more than 50 trillion cubic feet of gas resources.
We will also become Australia's largest liquefaction infrastructure owner with 15.8 million tonnes per annum.
We are talking literally decades of natural gas production… continuing long after my lifetime… and I hope to live for a long time.
Australia has shown how technology, innovation and strong partnerships can unlock - not just the resource - but the accompanying economic benefits, social infrastructure and energy security.
And the timing is pretty good too.
Global demand for cleaner-burning LNG continues to grow and is expected to almost double by 2025.
A report commissioned by the Australian Energy Market Operator[1] determined that LNG demand would exceed supply after 2023.
This highlights why the industry - with support of government and the community - must continue investing for the future.
To keep the trains filled with gas, these new facilities require ongoing multi-billion dollar investments.
New wells, subsea equipment, platforms and pipelines…
Not to mention the long-term operations and maintenance equipment, skills and capabilities.
McKinsey estimates during the 30-year operations phase of these LNG facilities, there will be ongoing operations expenditures across Australia, of between 8 and 9 billion dollars per annum.
This is equivalent to the WA government's health budget in 2016-2017.[2]
Most of the energy growth I'm referring to will occur right next door in the Asia Pacific region - primarily driven by China and India.
LNG is a significant fuel for power generation across the region and is the transitional fuel of choice for many customers.
It's a pretty amazing opportunity, isn't it?
We're blessed with amazing natural gas resources;
We're in pole position geographically to provide safe and reliable LNG to the key markets to our near north;
And it comes at a time when demand is growing.
But immense though the opportunity is, things are changing…
The comparative and geographic advantages which Australia has long enjoyed can no longer be relied upon or taken for granted.
1. First, abundant low-cost shale gas in the US has caused a revolution of its own.
Before moving to Chevron Australia, I headed up Chevron's Appalachian Mountain Business Unit in the north-east of the United States – for this reason, shale is a topic close to my heart.
As many of you would know, 'natural gas from shale' is gas 'trapped' in fine-grained sedimentary rock.
Previously ignored by the industry, technology now allows us to safely extract that gas, allowing it to flow to production wells.
The advent of shale has almost doubled the world's estimated recoverable gas resource base.
Six additional LNG plants are under construction in the US, with a capacity of 60 million tonnes per annum – the equivalent of four Gorgons.[3]
And here's the rub: Low-cost US shale gas is already entering into Australia's traditional Asia-Pacific markets.
North America has 20 percent of the world's shale gas resources.
Where I was posted is home to some of North America's largest and richest sources of shale gas.
In a 2016 report, IHS Energy estimated there is 1400 trillion cubic feet of natural gas that is economic and recoverable at a price of $4 per million BTU or less.
That's enough to keep the US self-sufficient in gas for at least 51 years…
It's important to recognise that the benefits from this U.S. shale 'boom' extend far beyond the hundreds of thousands of workers in the industry itself.
Unlocking shale energy is making US business more competitive, boosting economic activity, generating millions of jobs and billions in government receipts.
Many companies have announced plans to invest in America as a direct result of the developments in energy supplies… and resulting lower prices.
And the good news is… greater natural gas use is reducing US carbon emissions.
2. The second challenge I want to discuss is how cost competitiveness is influencing LNG buyer behaviour. While affordability and reliability remain key, diversification and flexibility have become just as important to maintain energy security and keep the lights on in Asia.
Australia's proximity to Asian customers has historically provided a geographical and cost advantage between the two and both have benefited.
However, with the onset of low US gas prices combined with lower charter rates and the widening of the Panama Canal, we've seen greater competition and this cost differential narrow.
Just this year, we've witnessed Japan taking receipt of US LNG shipments for the first time.
With this back drop, it's important Australian LNG producers nurture the long-term relationships built with Asian LNG buyers through competitive, reliable and safe LNG supplies.
3. Thirdly, as global companies look for investment opportunities with shrinking capital investment programs, global investment opportunities must be more competitive.
While energy companies look to investment opportunities that provide attractive returns, also critical are the right policy settings.
For Australia to be competitive at attracting future constrained capital, it needs to offer a globally competitive fiscal regime.
Take for example, the Australian company tax rate being high by global standards, at a time that other jurisdictions - including the US and UK - are proposing tax cuts.
Pressure being placed on governments for policy interventions on issues such as the Petroleum Resources Rent Tax, bans on oil and gas drilling and mandated local content quotas send the wrong signal to investors.
While good policy supported the $200 billion-plus investment in the current LNG revolution, we need to ensure future policy continues to do so.
I believe policy change should meet a strict test:
it should encourage future investment;
it should not retrospectively impact project economics;
and any changes should not compromise Australia's international competitiveness.
LNG investments are long-term investments.
The Gorgon Project is a classic example:
The Gorgon gas field was discovered in 1980;
The final investment decision was made in late 2009;
Construction commenced in December 2009; and
Operations started in 2016 and continues this year.
That's more than 35 years since first discovery and more than $50 billion in joint venture investment without an immediate return.
Given ongoing investment will be required to keep the gas plants full, it is not surprising companies are looking for a stable fiscal regime.
4. Finally, the cost of doing business in Australia, including construction costs, are widely agreed as being high, compared to competitor countries such as Canada or East Africa.
New LNG projects - wherever they are - won't get past the planning stage unless they're economically competitive for buyers and sellers, while providing benefits to host communities and governments.
Even the best resources might turn out to be uneconomic with uncompetitive terms.
Just as buyers have choices, investors have choices too.
Many countries have been blessed with natural gas resources but without the right terms - transparency and contract stability - the above-ground risks can make investments uneconomic.
The challenges I've outlined weren't as magnified in the days of $100 oil.
But with the price hovering around $50, they can't be ignored.
Petroleum company capital budgets have fallen with oil prices.
The mega-projects of the past decade are giving way to smaller, more targeted investments with quicker economic returns.
But there are ways we can claw back that comparative advantage…
And the one I'd like to discuss now is that of collaboration.
As it stands, there is unlikely to be another large greenfield LNG development in WA.
What we do have is 11 trains of installed, world-class liquefaction capacity… and an opportunity to safely, reliably and competitively develop WA's resources.
As I've previously mentioned, WA is blessed with vast natural gas resources – estimated at more than 200 trillion cubic feet of discovered and undiscovered natural gas resources[4] - off the north-west coast alone.
Greater collaboration would not only result in WA's LNG resources being developed in the most capital efficient way, but provide a long-term return to Australia - and a cash dividend for the community.
Non-bespoke infrastructure would be able to be shared to keep LNG plants full.
Customers would receive affordable and reliable supply.
Co-operation would occur for mutual advantage; and all sides would benefit through constructive engagement.
Maximizing existing infrastructure has advantages over building new greenfield projects.
They have access to a low-cost resource, existing pipelines, as well as tanks and jetties that are already built.
The Chevron-led Wheatstone Project, as Australia's first LNG hub concept, is an example of what's possible.
Wheatstone was designed so third party producers could process their otherwise stranded gas on ground floor terms.
We can put the state's interests above self-interest.
And if we get it right, the pay-off is significant.
And that's what I'd like to talk about now:
What does all this investment mean for members of our community?
Or as Reg from Monty Python's Life of Brian would say… 'What have the Romans ever done for us?'
While we may not have been as impactful as the Roman… the industry can be very proud of its contribution.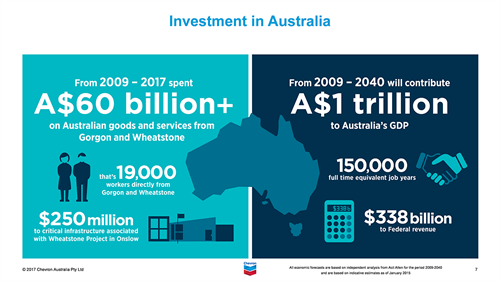 Importantly, there's a massive local content dividend.
Now, on behalf of all of our joint venture partners, I'm delighted to announce today the Gorgon and Wheatstone Projects combined have injected more than $60 billion in local content into the Australian economy over their construction phases.
Yes, you heard it right… a $60 billion local content injection.
In an industry where billions roll off the tongue, let me put this in perspective: that's 30 major hospitals or more than 2000 primary schools[5].
The Projects have awarded literally thousands of contracts to local companies across the Pilbara, Western Australia and around the nation… and created almost 19,000 direct local jobs in the process.
A good example where local content is making a real difference to peoples' lives, is in Onslow.
Thanks to the Wheatstone joint venture partners, the community is the beneficiary of $250 million[6] being spent on social infrastructure.
And this is resulting in upgrades to health, education and recreation services as well as roads, power and water.
We work closely with the community, the Thalanyji people, the Shire, state government and others to ensure Onslow remains a vibrant and sustainable regional community.
And there's more to come from these Projects as we enter the operations phase.
Independent research found that over the 30-plus operating years of Gorgon and Wheatstone, as well as Chevron's other activities in Australia, we expect to deliver:
More than $1 trillion to Australia's GDP;
Almost 150,000 full-time equivalent job years; and
About $338 billion to Federal Government revenue[7].
Let's not forget domestic gas into the WA system, which has been a beneficiary of the multi-billion-dollar investment in LNG.
In fact, there is no doubt domestic gas would still be in the ground today, were it not for the development of these legacy LNG projects.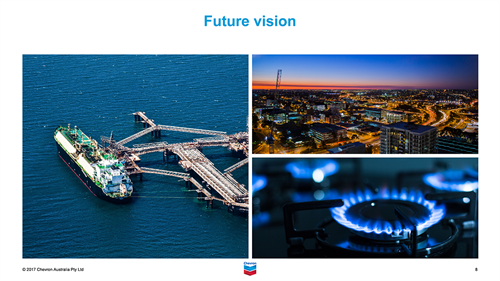 I've outlined the golden opportunity we have before us.
I truly believe it's an amazing story.
But it's up to all of us to help tell that story.
This is a necessary industry.
In the years ahead, the world is going to need all forms of energy - natural gas, crude oil, coal, renewables and nuclear - to meet global energy demand and be part of the energy solution.
The world is reaching for affordable and reliable energy to drive both economic growth and improved living standards.
Over the past 150 years, we've seen the greatest advancements in living standards in recorded history - light, heat, mobility, mechanized agriculture, modern communications - as well as other benefits, to billions of people around the world.
All these have been brought about by affordable, reliable energy.
Today, the global economy depends on this energy to drive jobs, economic prosperity and provide the goods and services the world needs.
The opportunity for Australia is similarly amazing: abundant, cleaner-burning natural gas which is economic to produce, scalable, complementary to intermittent renewables, such as solar and wind, and increasingly being used in transportation.

Simply put: Gas is good.
But unless the industry and governments bring the community along, we won't reach our potential.
Last week, the Prime Minister called East Coast gas producers together to discuss solutions for a looming energy crisis.
As you know, community activism and political intervention has led to onshore drilling bans and gas moratoria in New South Wales and Victoria. Add to that, the energy shortages in South Australia.
All this comes at a time when domestic gas production is in decline[9] and as the Australian Energy Market Operator is forecasting shortfalls in New South Wales, Victoria and South Australia from 2019.[10]
Furthermore, the number of oil and gas wells drilled in Australia has effectively halved since 2014.[11]
Reliable electricity supply requires reliable gas supply.
This can only be achieved if we invest in both new and existing oil and gas fields.
Contrast this with the transformational impact of the US shale revolution that has turned that country from a net gas importer, to a net gas exporter.
The conditions were right for the US shale revolution: the geology was well understood, the expertise and supporting infrastructure was in place and property owners stood to gain royalty revenue.
But critically, the regulatory system was conducive – and there was sufficient support from local communities and property owners to get projects up.
There's no reason why this can't be replicated on Australian soil… and very quickly if we look at the US example.
Australia has a real opportunity to transform the local energy market by unlocking undeveloped gas resources. In doing so, communities would benefit, industry and manufacturing would benefit and the environment would benefit.
Ladies and gentlemen, our vision should be clear: Australia can be the world's best producer and supplier of natural gas;
Western Australia can lead the rest of the country in responsible development through strong partnership and collaboration;
Consumers can have reliable and affordable energy supplies; and
Governments can facilitate internationally competitive policy settings;
As a result, the community reaps the benefits through jobs, local content, social investment and government revenues.
We have the resource, the markets, the know-how and human energy to achieve all of these things.
It's now up to us to work together to prolong the 'resources revolution'.
I look forward to being a part of it with you.
Thank you for your attention.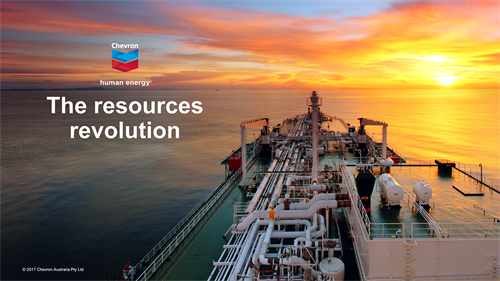 [1] LNG Supply/Demand, Price Forecasts, and Risk Analysis PDF
[2] WA Government 2016 Budget: Health $8.6 billion for 2016-2017 period
[3] ABU PRRT submission to Federal Government, 2017
[4] Geoscience Australia March 2012 and USGS World Petroleum Resources Project March 2012 Fact Sheet
[5] Grattan Institute study, 2016: Should you worry about a schools shortage?
[6] Major developments for Onslow
[7] Acil Allen third party independent modelling 2015 (Based on 2009-2040)
[9] AEMO Gas Statement of Opportunities 2017 – forecast 20% from 2017-2021 with biggest decline in Victoria 38%.
[10] AEMO Gas Statement of Opportunities 2017
[11] AEMO Gas Statement of Opportunities 2017. 2014: 1534 wells, 2016: 821 wells.