feature

shining a light on WA's biodiversity

This year more than 1,100 photographs showcasing Western Australia's biodiversity were submitted by students from schools across the state in the annual Chevron Focus Environment photography competition.
For 17 years, the competition has encouraged students from kindergarten to year 12 to be aware of their environment and reinforce the need to safeguard ecosystems for future generations.
The primary aim is to highlight the incredible depth of biodiversity in WA and the human efforts required to conserve and preserve it.
The competition, open to all WA primary and secondary students, includes three subject categories that reflect Chevron's core values of protecting people and the environment:
Focus on WA's native species
Focus on WA's habitats and ecosystems; and
Focus on Sustainability in WA
Competition partner The West Australian presented the winning students and their schools their share of $25,000 in cash prizes – with one outstanding entry receiving the prestigious Harry Butler Award.
The award, in memory of Harry and his dedication to raising awareness about natural history and environmental conservation, this year went to Kyle Berlingeri from Dianella Secondary.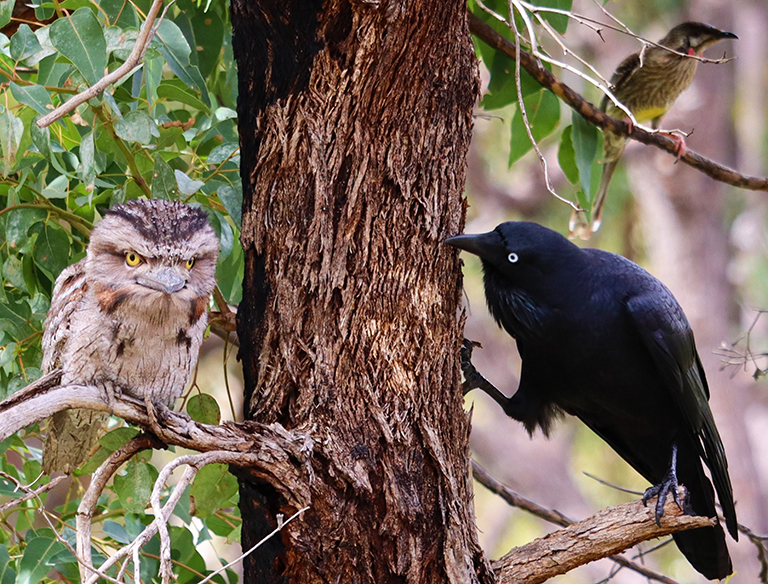 Former Chief Scientist of Australia, Professor Lyn Beazley, was on the judging panel, carrying on the legacy established by her close friend Harry Butler.
Professor Beazley said the winning photo was quite remarkable and the one she thought Harry would choose.
"It shows three different species: the Tawny Frogmouth, Australian Raven and Honeyeater sharing the same environment," she said.
"They can do this because they all utilise different parts of it. The Raven and Honeyeater are diurnal, whereas the Tawny Frogmouth is nocturnal – which explains his apparent frustration at being woken up during the day!"
"Having different diets further allows them to co-exist in the same environment. The raven is an opportunistic carnivore – even eating the eggs of the Tawny Frogmouth – whereas the Honeyeater and Tawny Frogmouth are nectarivorous and insectivorous respectively," she said.
"Thinking about what might be happening in this photo is also quite humorous. The Raven appears to be annoying the Tawny Frogmouth – quite possibly being the reason it woke from its daytime sleep, the Tawny Frogmouth looks to be trying to summon up the patience to deal with this annoying intruder; meanwhile the Honeyeater is wisely staying out of the confrontation listening in from a safe distance!"
The winning images will be showcased on the Yagan Square Digital Tower at 1.15pm and 6.15pm daily from 10 to 24 November.
See all of the 2020 Chevron Focus Environment competition winners >