feature

onslow education initiative rings loud and clear

Together with the Department of Education and Training, and Telethon Speech and Hearing, Chevron Australia has announced the Onslow Education Initiative, designed to support childhood learning and health outcomes in Onslow, Western Australia.
The multi-party initiative brings together leading speech, audiological and occupational therapy services and dedicated teaching resources in a 12-month pilot program, aiming to close the gap between primary education outcomes in Onslow and the Western Australian state average by 2030.
Meeting with students and teachers today at Onslow School, Minister for Education and Training Sue Ellery said programs like the Onslow Education Initiative show the integral role schools play in the local community.
"Onslow Primary School's commitment to quality teaching and learning opportunities is having a profound impact on all students," she said.
Hon Sue Ellery MLC
Minister for Education and Training
Telethon Speech and Hearing CEO Mark Fitzpatrick explained hearing loss, speech difficulties and developmental delay in childhood can have substantial impacts on education outcomes, often leading to potentially devastating learning and behavioural difficulties later in life.
"This co-designed initiative will help prevent prolonged concerns by giving families in rural communities greater access to essential educational and health resources early on, so children can have the best start to school and reach their full potential," he said.
We look forward to seeing the outcome of this program and how it can be rolled out to other schools throughout Western Australia."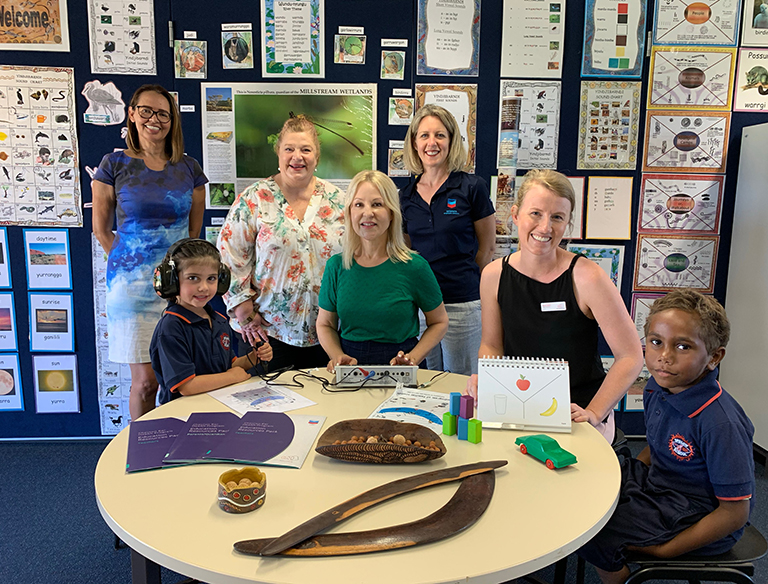 Caption: Onslow School Principal Jacqueline Barry, Education and Training Minister Sue Ellery, Chevron Australia Wheatstone Plant Manager Deanne Renting, Telethon Speech and Hearing Head of Marketing Belinda Leksas and Speech Pathologist Nicole Hadlow and Onslow students Macie Gusthart and Richard Melissen try out audiology and speech equipment at Onslow School.
Under the initiative, all Onslow School children aged 4-8 years will be screened by visiting speech pathologists, audiologists and occupational therapists to identify students not meeting their age appropriate speech, language, fine and gross motor developmental milestones.
Onslow School teachers will receive classroom resources and ongoing mentorship from Telethon Speech and Hearing's allied health team, to build capacity in speech and language techniques and learning methods to help build student literacy and numeracy skills.
Wheatstone Plant Manager Deanne Renting said Chevron Australia is proud to continue its long-term investment in Onslow and build upon the meaningful benefits delivered alongside Telethon Speech and Hearing, Onslow School and the Western Australian state government since 2011.
Deanne Renting
Wheatstone Plant Manager
The Onslow Education Initiative will fund a range of educational resources at Onslow School, including:
A full-time Learning Support Coordinator and two Education Assistant positions to improve student to teacher ratios and focus on numeracy and literacy outcomes;
Capacity building through the school's involvement in the Fogarty EDvance Program – a Whole School Improvement Program;
On-site social, emotional and behavioural programs; and
Technology resources to support digital skills and fluency.