feature

dandenong's first urban shade forest takes root on national tree day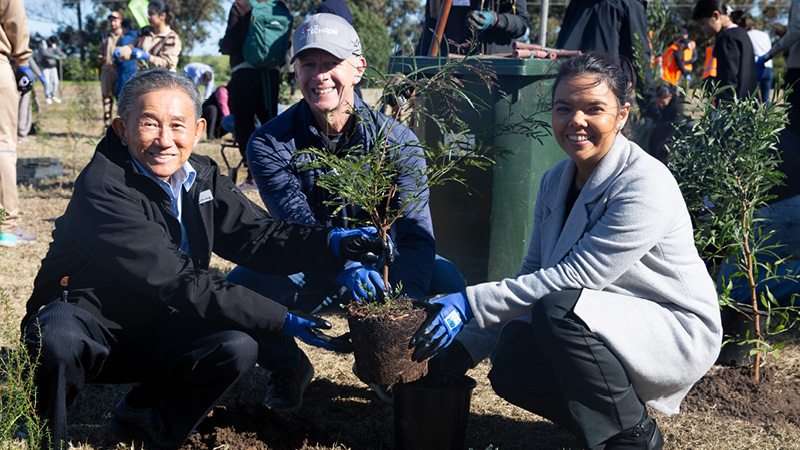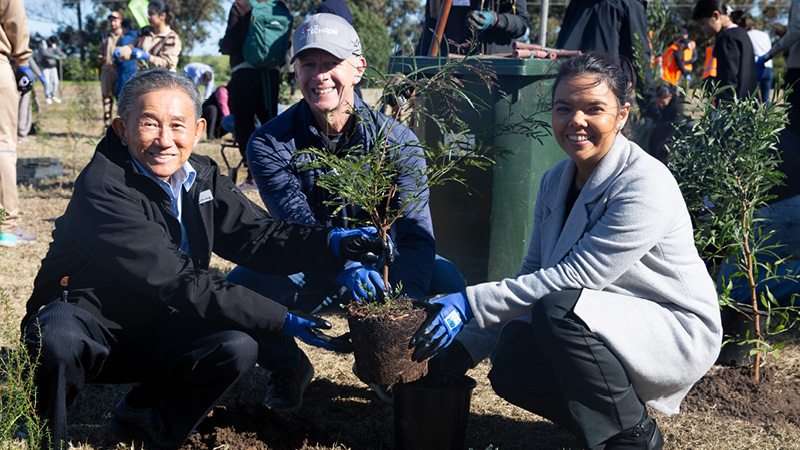 On National Tree Day (30 July 2023) we joined downstream colleagues from our premium fuel brand Caltex, our partners Conservation Volunteers Australia (CVA), the Mayor of the Greater Dandenong City Council and other dignitaries to launch the Urban Shade Forest project in Springvale South, Victoria.
This national initiative delivers nature-based solutions that are designed to reduce the amount of heat absorbed by infrastructure and provide cooling shade in urban areas.
By supporting CVA to reconnect communities with nature and increase urban canopy cover, we look forward to suburbs that are cooler and more liveable for generations to come.
With sights set on achieving this goal by increasing the amount of vegetation in Dandenong, 228 Chevron Australia and CVA volunteers came together on National Tree Day to plant 3,980 native seedlings at Spring Valley Park.
During the launch event, Chevron Australia Downstream General Manager, Lorne Chambers, highlighted the strong partnership Chevron shares with CVA.
"Over the 17 years Chevron Australia has partnered with CVA, it's been humbling to see the ongoing commitment our workforce demonstrates, participating hand in hand with CVA and volunteering at community planting days."
"I'm proud to be here today with colleagues from across Chevron in celebration of initiatives like this one, that help communities thrive."
Lorne Chambers
Chevron Australia Downstream General Manager
"I look forward to the rollout of the Urban Shade Forest project across other locations as we continue to strengthen our relationship with CVA and local communities," he said.
CVA project manager, Teresa Gustowski, said Dandenong was chosen as the first urban forest location due to its need for urban greening and encouraged everyone to get involved to help create a vibrant community.
"Not only will the Dandenong Forest help to cool the city by providing shade, but it will also enhance local biodiversity, providing an important refuge for native species, and create a healthier, more connected city. We're inviting everyone to get involved, and to create an Urban Forest that will be enjoyed for generations to come."
By participating in the project, community members will have the opportunity to make a real difference in their local environment and learn about the importance and benefits of urban forests.
Stay tuned for more information about the rollout of CVA's Urban Shade Forest project, which is set to come to Western Australia next. In the meantime, you can participate in volunteering opportunities right across Australia throughout the year.
Find out how you can get involved and volunteer with CVA, at a location near you at the Conservation Volunteers Australia website.