speech

CEDA: WA energy transition summit keynote speech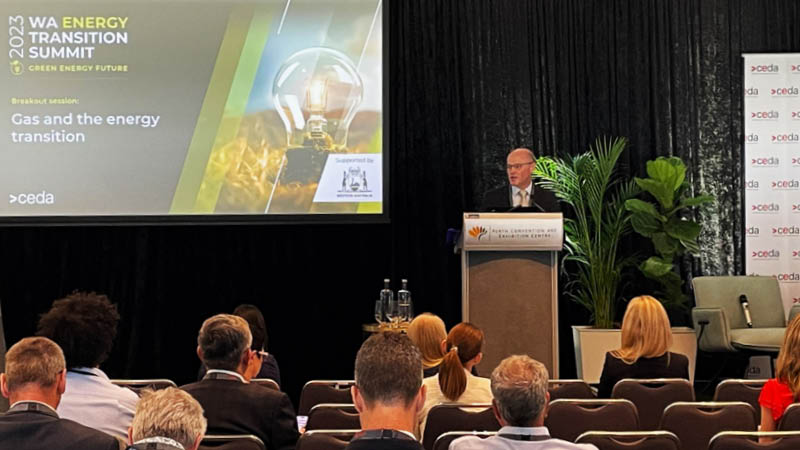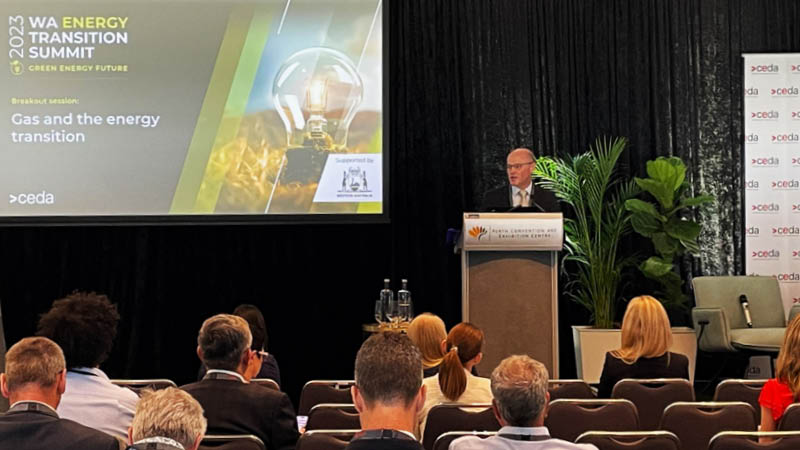 David Fallon - General Manager Energy Transition, Chevron Australia

CEDA: WA Energy Transition Summit
17 November 2023
Good afternoon, my name is Dave Fallon and I am the General Manager of Energy Transition at Chevon Australia.
I would like to begin by acknowledging the traditional owners of the land we meet on today … the Whad-juk people of the Noongar nation … and pay my respects to their Elders, past, present and emerging.
I extend that respect to all First Nations people here today and to the traditional owners on whose land Chevron's Wheatstone and Gorgon projects operate.
I would also like to acknowledge the many distinguished guests in the room today.
It's a pleasure to be invited to speak at the Western Australian Energy Transition Summit.
I congratulate the WA Government - and Premier Roger Cook - for convening this event and for placing energy transition issues at the forefront of his government's agenda.
We all have an important role to play in helping write the next chapter in our energy transition story - governments, communities … and industry.
This level of collaboration is important, as no one company, no one industry, no one country acting alone can meet the world's energy and climate goals.
At Chevron, we believe energy is essential to achieving a more prosperous world and that the future of energy is lower carbon.
Chevron is one of the largest investors in Australia and operator of two of the nation's largest resource projects - the Gorgon and Wheatstone natural gas projects.
And we're proud of the role we play in providing the reliable and affordable energy that communities and industries depend upon – both at home and abroad.
We supply almost 50 percent of WA's current domestic gas needs – providing the energy needed for electricity, heating and cooking.
But natural gas has a broader role in WA's economy too – a role that's less understood.
The Australian Energy Market Operator's 2022 WA Gas Statement of Opportunities shows that gas is critical to the development of the state's renewables sector.
This includes mining and minerals processing operations for commodities such as lithium, nickel, copper, alumina and other minerals, which are essential inputs for renewable technologies.
In conjunction with domestic gas, Gorgon and Wheatstone support the energy security of our key international customer countries in the form of LNG… helping keep the lights on and factories running across the Asia Pacific and strengthening Australia's ties with strategic partners in the region.
Forecasts showing years of continuing growth in domestic and international gas demand, highlight the important role gas has to play into the future.1
So, we're continuing to invest in our world-class natural gas assets.
In early June of this year, we announced the production of first gas from the Gorgon Stage Two development, which will help maintain feed gas supply for the Gorgon LNG and domestic gas processing facilities on Barrow Island.
Fabrication is also now underway on our A$6 billion Jansz-Io Compression Project, designed to maintain production from the Jansz-Io field using proven, world-leading subsea compression technology.
That said, Chevron Australia recognises that natural gas – including the gas produced through our operations – is a significant source of greenhouse gas emissions.
In Western Australia, the lower carbon trajectory for our operations has been set by new Greenhouse Gas Management conditions and the Federal Government's Safeguard Mechanism, putting both Gorgon and Wheatstone on a path to scope one net zero emissions by 2050.
And we continue to explore options to lower the carbon intensity of our operations, including through technical abatement solutions that can be developed and deployed at scale to help our plants run more efficiently.
While many low emissions technologies will be required to reduce emissions across the Australian economy, carbon capture and storage – or CCS – is an important tool in the toolbox.
As you know, Chevron was an earlier adopter of carbon capture and storage technology.
At Gorgon, we operate the world's largest dedicated CCS system that has stored almost 9 million tonnes of carbon dioxide since 2019.
We recognise that Gorgon is not where we want it to be on sequestration rates.
But it is working and, even at its reduced storage rates, Gorgon remains the largest dedicated CCS system in the world.
The challenges we've experienced with the pressure management system – which extracts water from the underground storage reservoir to make room for the injected CO2 - have been well documented.
We're committed to implementing all measures to increase CO2 storage rates at Gorgon, in line with our greenhouse gas management conditions, and we have the best and brightest working on the project right now to optimize the CCS system.
And Chevron alongside our Gorgon Joint Venture Participants have purchased credible and verifiable offsets to make good this shortfall.
There are many solutions required to meet the world's energy and climate goals.
Western Australia has a unique opportunity to be a world-leader when it comes to the adoption and deployment of CCS.
And I want to acknowledge Premier Cook today, who announced the State Government will invest more than $4 million to establish a world-leading Carbon Capture, Utilisation and Storage (CCUS) industry in WA.
The Premier also announced the release of a new study on CCUS, commissioned and co-funded by the WA LNG Jobs Taskforce and undertaken by CSIRO and the Global CCS Institute.
The study makes a number of important findings and confirms what we already know – Western Australia and Australia more broadly are well-placed to be world-leaders when it comes to the operation and deployment of CCS technology.
It's not just the WA Government that recognise the role CCS will play in reducing emissions.
The Intergovernmental Panel on Climate Change's (IPCC) 1.5 °C Report notes that we can't achieve net zero by 2050 without scaled deployment of carbon dioxide removal technologies like CCS.
Similarly, the International Energy Agency has been clear that reaching net zero will be virtually impossible without CCS.
Under the IEA's Net Zero Scenario, around 1 gigatonne of CO2 is captured by 2030, with around 6 gigatonnes needed to be captured and stored each year by 2050.2
And on this trajectory towards a lower carbon future, Australia has a key role to play.
Our advantaged geology could help sequester the emissions of our regional neighbours across the Asia Pacific.
In so doing, Australia would assist key trading partners such as Japan, Singapore and Korea achieve their net zero aspirations, in addition to our own.
And it is important because there are parts of the economy where renewables aren't always easily substituted for traditional fuel sources – such as the hard to abate sectors of cement, steel, chemical production and others.
Some geographies don't have the renewables resources that Australia has – meaning they will be more reliant on imported fuel where there is an increased need for CCS to play a role.
To this end, it was positive to see the passage of Federal legislation earlier this week that will help pave the way for the necessary agreements between Australia and our neighbours in the region to allow for transboundary CCS.
And when it comes to new energies, CCS is key to the development in the short to medium term of the lowest cost versions of low-carbon hydrogen.
Australia's large gas resource base, suitable geology for CCS, and proximity to Asian market makes Australia ideally positioned to capture this future export opportunity.
In conclusion, Chevron believes many forms of energy and solutions will be needed in the energy transition - including traditional sources such as natural gas, as well as CCS, hydrogen and others.
We understand the expectations of the community and our stakeholders in building a lower carbon future.
Australia should continue playing a leading role in providing energy, and maintaining energy security, for the Asia Pacific region.
Part of being a leader is not just thinking about our needs, but others too.
We should share our competitive advantages with our strategic partners.
It will take our combined efforts to meet our net zero aspirations and continue to provide the reliable and affordable energy the world needs.
We have a great opportunity to work together in writing this next chapter in our energy evolution.
Thank you.