harry butler legacy project

it's up to us now

When Chevron first stepped on to Barrow Island more than 50 years ago, accompanying them was an enthusiastic young conservationist named Harry Butler.
From the very beginning, Dr Harry Butler AO CBE helped us find solutions to allow our operations and projects on Barrow Island to move forward without compromising fundamental conservation values.
We credit much of our worldwide reputation for environmental management on Barrow Island to Harry and he was instrumental in creating a culture of environmental awareness with our workforce.
The Harry Butler Legacy Project is dedicated to upholding his passion and unwavering commitment to conservation and the environment for the benefit of future generations.
Key components of the legacy project include: nurturing an inspired and engaged workforce; third party partnerships and collaboration; identifying and addressing knowledge gaps; and volunteering in the community.
After all, it's up to us now.
industry and environment coexist
Dr Harry Butler believed with the right management, industry and biodiversity could coexist.
His work in conservation management on Barrow Island – a Class A Nature Reserve and home to the Gorgon Project and our WA Oil operations, is testament to that belief.
Harry's efforts resulted in more robust Chevron environmental management systems including a quarantine management system that is recognised as world's best practice, processes for ecosystem and endemic species protection, emergency response plans, and more stringent regulatory mandates.
His contributions extended beyond processes and procedures, helping to instill a more comprehensive understanding in the Chevron culture of what it means to care for and protect the environmental heritage of Barrow Island.
the harry butler institute
On his passing in December 2015, Harry left a true legacy – one which Chevron is committed to upholding as part of the Harry Butler Legacy Project.
In partnership with Murdoch University, the Harry Butler Institute will honour Harry's legacy by shaping the next generation of leaders in conservation and environmental management.
Chevron Australia is a foundation member of the Institute, which will promote high quality teaching and research in the coexistence of business and biodiversity, with a focus on the oil and gas industry.
Our partnership will also see the establishment of the Chevron Harry Butler Chair in Environmental Management and Biosecurity, a PhD program, honours projects and scholarships, monitoring and scientific work on Barrow Island and an Indigenous program.
The Harry Butler Institute will also build on the great work that Harry did with Chevron, and the industry at large, by providing new generations of students with opportunities to undertake high quality research in biosecurity science and environmental science.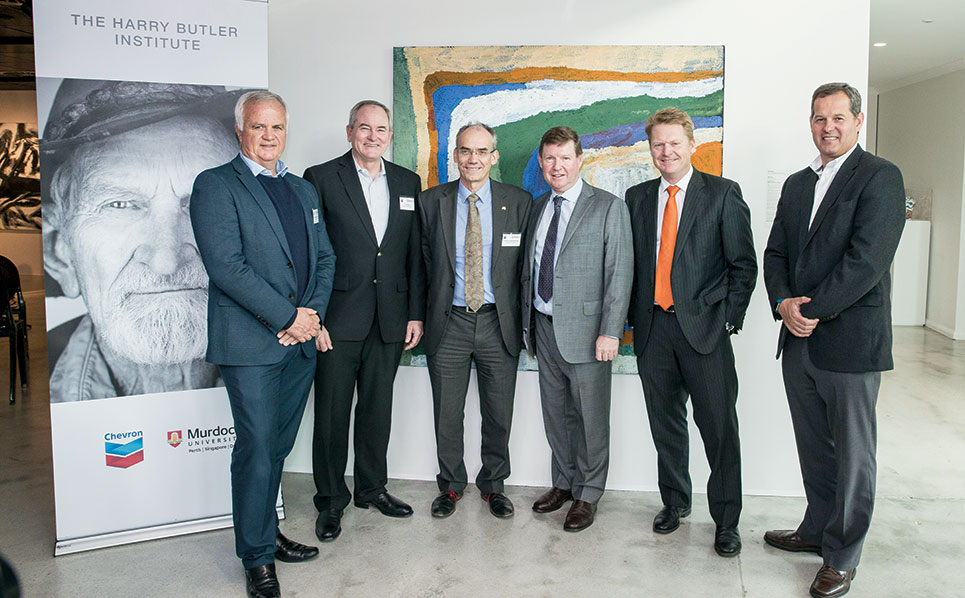 a lifetime of achievement
Dr Harry Butler received many prestigious awards throughout his career which are testament to his lasting impact on the Australian environmental community.
After a lifetime of invaluable environmental work, Harry was appointed a National Living Treasure by the National Trust, an officer (AO) in the General Division of the Order of Australia, Commanding Officer of the Order of the British Empire (CBE), and Australian of the Year.
In 2004, Harry received the Chevron Environmental Hero Award in recognition of In The Wild with Harry Butler and its influence in making many Australians aware of the country's wildlife heritage and the need for conservation. He was also credited for helping to maintain the ecological integrity of significant areas throughout Australia; including his work with the oil and gas industry in Western Australia.