feature

working together for onslow

Earlier this year, Chevron Australia announced the Chevron Onslow Relief Fund – our commitment to lend a hand to local businesses and community members impacted by the current health crisis.
As part of the fund, the Onslow Chamber of Commerce and Industry (OCCI) is delivering a three-part stimulus package, including:
Local business support for short-term financial hardship and/or long-term business rebuilding;
Upskilling opportunities for residents unemployed as a result of current health and economic challenges; and
Shop local vouchers for eligible residents to use at participating local businesses.
All three initiatives have now launched and are delivering meaningful benefits to the Onslow community.
Helping to build economic resilience, local businesses are receiving expert support led by Western Australian consultancy Business Foundations, including financial and operational guidance, accessing government funding and contract tendering.
The Upskill for the Future program is allowing eligible residents to undertake valuable training while currently not at work or unemployed.
"The Chevron Onslow relief fund is providing much needed assistance, supporting local businesses and the wider community during this difficult time."
Chantelle King
OCCI chief executive officer
More than 3,400 Shop Local vouchers have been issued in Onslow, helping residents purchase important goods and services while supporting more than 20 eligible businesses and suppliers across town.
"The Chamber has worked together with Chevron to develop the stimulus package and meet the varying needs within Onslow," said OCCI CEO Chantelle King.
One small business benefiting from the Shop Local campaign is Kuarlu Gift Shop, operated by long-time Onslow local Peta Wilson.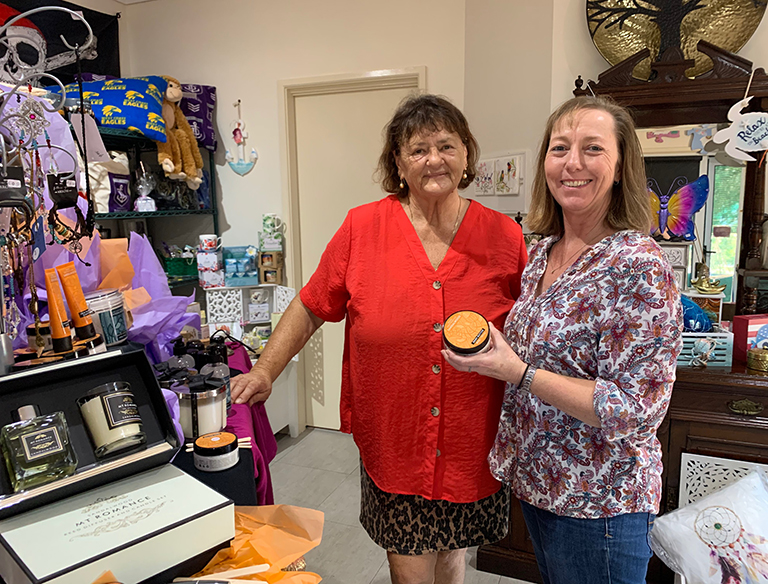 Local business owner Peta Wilson and Kuarlu Gift Shop employee Fiona Allen.
Mrs Wilson said she has been overwhelmed with the increased business generated by the initiative.
"It has been such a tremendous support for Kuarlu and other businesses in town and has even helped me to hire a friend who became unemployed due to the COVID-19 impacts in town," Mrs Wilson said.
See how else Chevron is supporting Western Australians during COVID-19 >