about the artworks
Muumbuluna by Thalanyji artist Anne Hayes, was selected as the artwork for the first Chevron Australia Reconciliation Action Plan 2019 – 2021.
The RAP was developed together with Aboriginal People from across the business and in the communities in which we operate; namely Thalanyji, Whadjuk Noongar, Kuruma Marthudunera and Yaburara Mardudhunera Peoples.
Chevron is committed to building our knowledge and understanding of Aboriginal culture, strengthening the relationships between our Aboriginal and non-Aboriginal workforce, and creating a more inclusive work environment and community.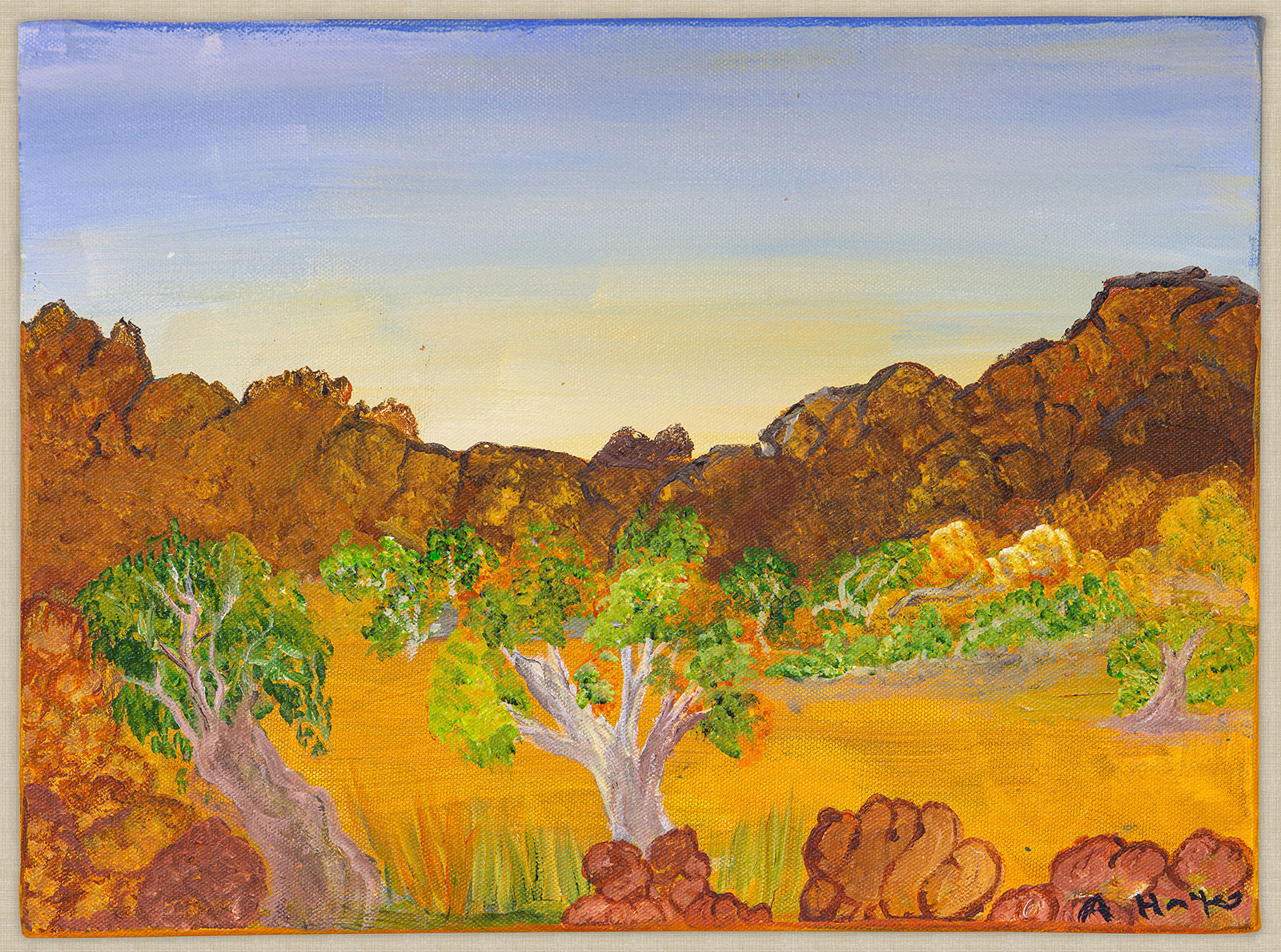 about the artwork

Muumbuluna
Muumbuluna is a special place for Thalanyji people. Our Elders told us about gum trees surrounded by a circle of rocks where men met to trade and share stories through yarning and rock carvings.
There is a rock hole up the top and after heavy rain Rouse Creek would overflow, making water seep down through the rocks.
It is a place where Thalanyji, Ganyura, Burduna, Bayungu and Binigura men would come together and be there for one another for happy and sorry times.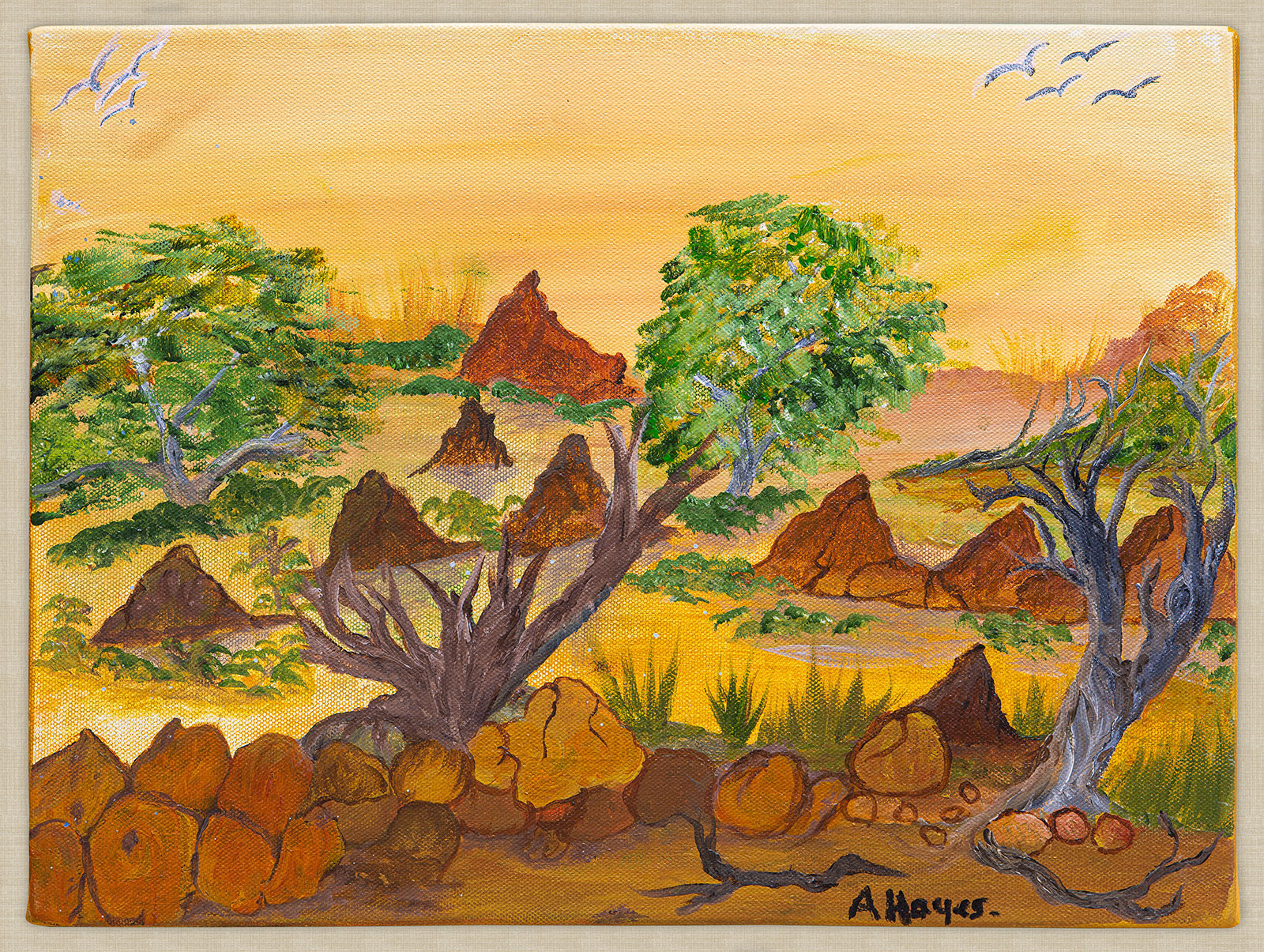 about the artwork

Gurndimankura
Gurndimankura is a very special place for my family. My mum and dad used to make camp there when my dad was fencing at Minderoo Station. All us kids would go out there to be with them and spend time together as a family.
There is a freshwater creek nearby that would fill up when the Ashburton River flooded. When it did, we would swim, fish for Perch and catch tadpoles for fun.
Gurndimankura has a lot of river sand and termite mounds all around. Me and my brothers and sisters would break off the sides of the termite mounds to catch small mammals, echidnas and snakes.
Each generation has continued to go there, but our changing landscape is making it harder to get to. I take my children and now my grandchildren and great-grandchildren to visit when they can.
I have many good memories from this place, it's a special part of Thalanyji Country for me.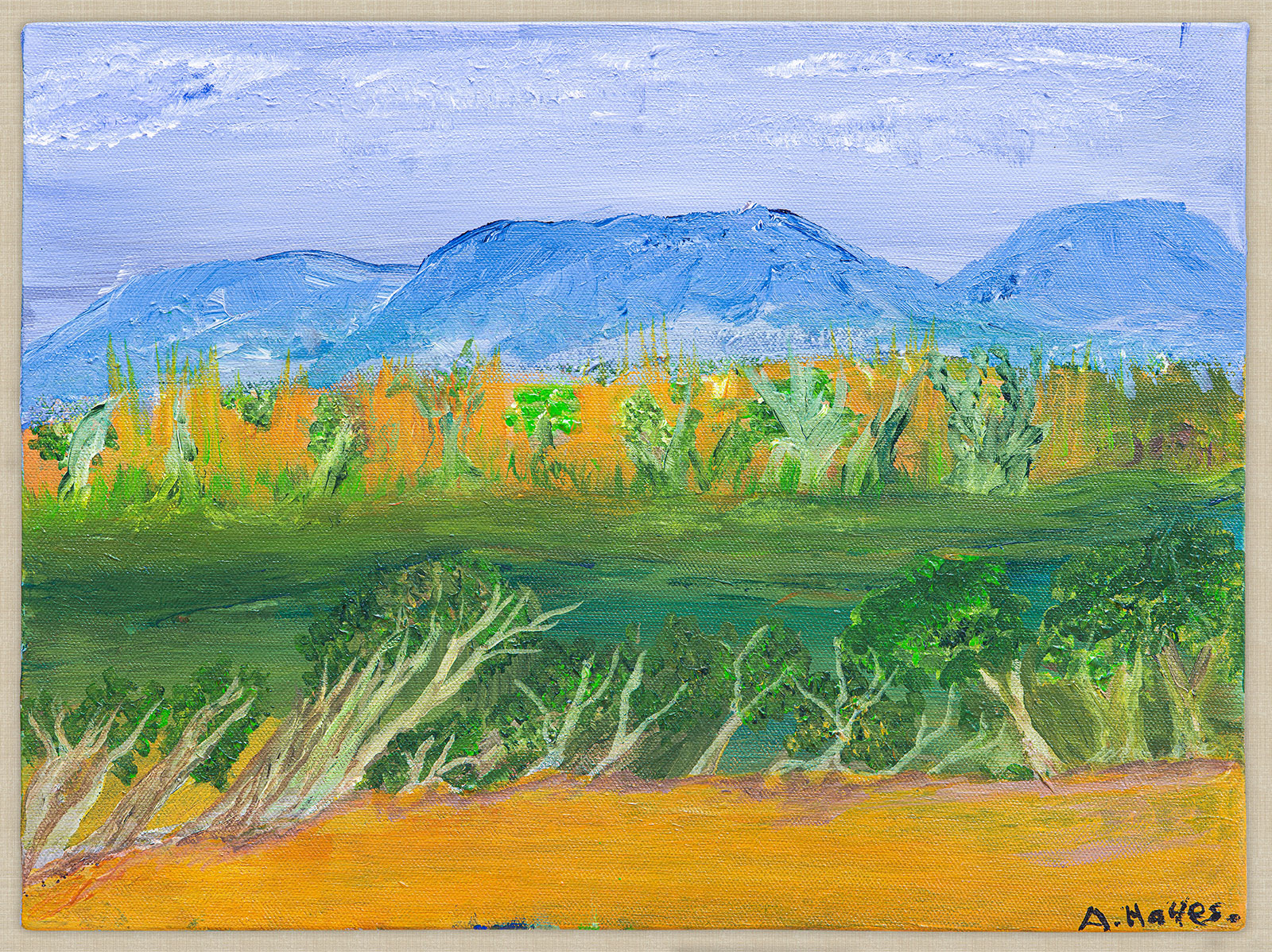 about the artwork

Mayarnu Pool
Mayarnu Pool is a lovely place out near Nanutarra. It's full of big shady trees along the water's edge with lots of birds and fish. All different groups gather here with their families to spend time together.
There is water here all year round and you can catch all sorts of fish like Mangrove Jack and Catfish. When I was a child, there used to be freshwater muscles everywhere too, but over the years and because of the floods that have come and gone I don't see their shells anymore.
While it's a special place for people to meet, it's also special because of the spiritual Wanamankura - a big black water snake that lives in the Pool.
Our Elders taught us through stories about Wanamankura, saying we can't swim there as a sign of respect. Our people still pass this story to younger generations.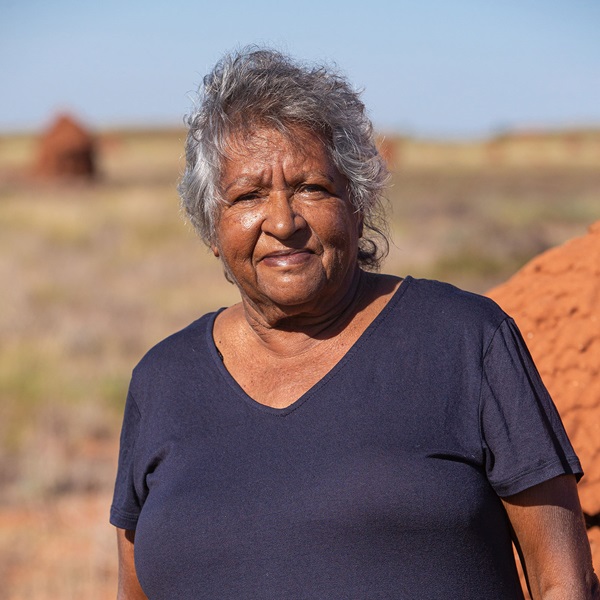 about the artist
Anne Hayes
Kurrama and Thalanyji Peoples
Born Onslow, Western Australia | Lives and works in Onslow
Anne Hayes was born in Onslow in 1952 and is the eldest of six children. Anne is a Thalanyji woman from her father's side and Kurrama from her mother's side.
Anne loves to paint the landscape of her Country and is passionate about keeping the Thalanyji culture strong with her people as well as promoting cross-cultural understanding. Anne helped compile a book, Ngambunyjarri, which outlines Thalanyji plant names and traditional uses. The book shares the Elders' knowledge of the natural environment while also being a key resource for future generations to access their culture and heritage.
Anne is currently helping develop a language book to share the childhood stories of Thalanyji Elders while continuing to teach younger generations about their people through storytelling, art classes and taking them out to Country.
.