Philip Noakes

Waves III, IV, V
about the artwork
Waves III, IV and V, inspired by the movement of waves or falling water results in the illusion of flowing metal. Philip Noakes has replicated this movement by using Britannia silver discs, which have historically been used to represent the continuity of time and life. Noakes has used the Britannia silver disc form since 2021, following a successful exhibition at the Australian Galleries. He uses the discs to showcase different hammered surfaces and finishes, resulting in complex light-reflection effects. The beauty and presence of hand-beaten silver offer a superb luminous quality to the sculptural form that captures the essence and mystery of the movement of water and waves.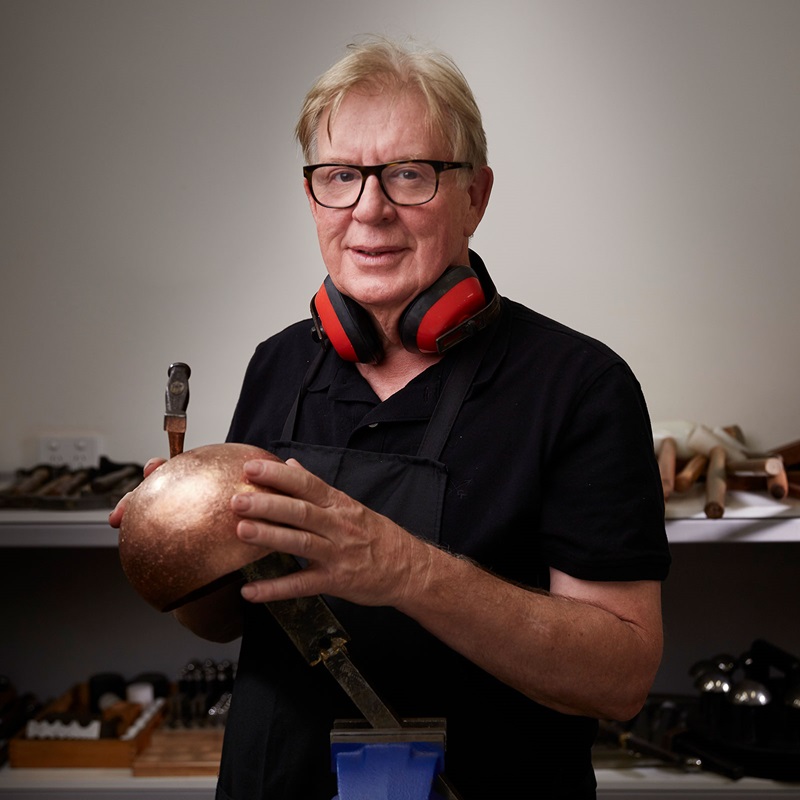 about the artist
Philip Noakes
Born United Kingdom
Lives and works Boorloo | Perth
Philip Noakes is recognised as one of Australia's foremost contemporary jewellers and silversmiths working today. Over many decades he has earned an international reputation as a consummate craftsman and a highly original and innovative artist within the expanded world of metalcraft. Noakes' practice constantly responds to the changing environment in which he finds himself, and his work combines innate talent with cutting-edge experimentation and vast technical knowledge to create unique and artistically excellent works.